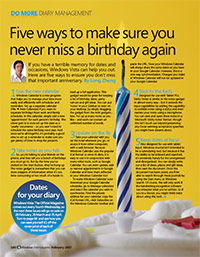 My first magazine article appeared page 140 of the Official Windows Vista magazine, launch issue one.
The article talks about ways you can use Windows Vista to remember dates and schedules to keep you in sync with life. Any of you who read this blog probably won't find it as useful as its aimed more at consumers rather than enthusiasts and geeks.
I want to tip my hats off to the editors at Future Publishing who made my article readable, and Jon and Paul from the team for giving me the opportunity to do so.
On the magazine website, there is a text-only transcript of this article, and links to subscribe for only £1 to keep everyone employed. Apart from my article, the rest of the magazine is well worth reading in the bathroom, like a good magazine is suppose to be read. 😉