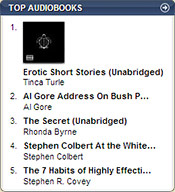 Apple released an 7.1 update to iTunes this morning, and being the latest-software-updates freak I am, I downloaded and installed it immediately. New features include a full-screen coverflow, better Windows Vista support, and a big surprise in the iTunes Store.
I don't use the iTunes Store very frequently, only to sample music once in a while, so I don't know how long this has been up for. Apparently, us Australians like our fair share of Silverchair, Justin Timberlake and Erotic Short Stories by Tinca Turle, unabridged I might add.
The audiobook description goes into much more detail. Emphasis on the "detail".

This disturbs me in many ways. Besides knowing what Australians like to listen to on their iPods, but also the lack of control and filtering by Apple. Mind you, this is a default installation of iTunes. Anyone (minors included) could access this whether if they just installed iTunes or been using iTunes for a while. Even restricting explicit content under parental controls fail to remove the specific audiobook from the listing.
Shouldn't Apple be responsible for what content they display on the front-page?