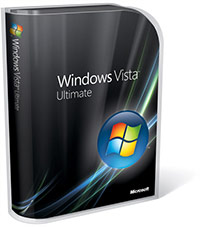 When 1.3 billion communists who love a good bargain get on the internet, they can be pretty serious when it comes to freebies, especially those valued at nearly ¥2,500 (several folds the average monthly wage).
It hasn't even been 24 hours since I officially announced the Windows Vista Ultimate giveaway yesterday, I had already received 1,052 entries. The range of entry responses were pretty amazing – there were the expected kidneys, church organs and appendixes. Then there were whole coworkers, one breast, eyes, livers, toes, nails and even testicles. It's amazing how many don't want to breathe when they get Vista. My hats off to everyone who thought of something creative 🙂
At almost 40 entries an hour, even picking up more pace, I thought if I had let this go on until the announced date of March 12, then I could have received up to 10000 entries. The chances of 1 in 10000 doesn't sound very appealing to anyone even to those who believe in luck.
On that note, I have decided to end the competition early, and draw a winner before it gets out of hand. The hamsters has spun the wheel, and the winner is Aaron Mitchell Bernstein. Congratulations. Clap clap.
The problem with something like this is, instead of rewarding loyal users who appreciate or even understand what I write, I have 100 times more entries from people who's never heard of my site, and comes to my site because their friend's pet's cousin's nephew's sister's owner's wife told them about the competition. It's one thing to feel lucky, but it's another to provide your address.
For future competitions, I'm going to rethink the way I allow and select winners with considerations for readers who support and appreciate what I do. Until then, my apologies.