Well if you're not having much luck trying to brute force your way to a copy of Windows Vista Ultimate, then maybe you should enter this.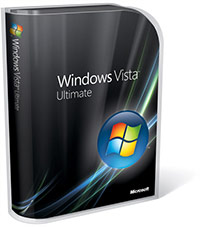 In January, Microsoft gave away copies of Windows Vista Ultimate to attendees of the CES Windows Vista Lab just in case this group of Windows Vista enthusiasts has never played with Windows Vista Ultimate. It is a pretty good gift in terms of the monetary value it represents, but it literally looks like something you could buy from a back-alley way in Chinatown for $5. Nevertheless, it has a totally legitimate product key so it is worth every dollar of a retail version.

I only found this in my 'box of stuff from CES' last week, so that explains why it is given away right now. I also have more than an adequate number of copies of Windows Vista for my personal use, so that explains why I'm even giving it away at all. Besides the "Not for resale" notice on the CD, and good karma, that's all the explaining I can do.
The contents of this amazing prize includes:
Paper CD/DVD sleeve with a clear plastic window
Windows Vista on a recordable DVD (as seen above)
Product key label affixed to the back of sleeve
Various fingerprints and scratches
You can use it on your home computer, work computer or even your rainbow-of-fun machine, a.k.a. the Mac.
Submit your entry at the "Win a copy of Windows Vista Ultimate" competition page.
Competition closes Monday 12th of March, 2007.
Update: Competition ended early due to an overwhelming number of responses (mostly Chinese).
The quality of your response is not judged. Winner will be picked at random using hamsters on wheels. Attempts to bribe the hamster will disqualify you of any present and future competitions.
P.S. If you are with a company and would like to giveaway a product on this blog, please get in touch with me.