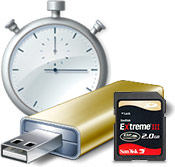 After hearing all the rants and raves about Windows Vista's ReadyBoost feature before and after the launch, I thought I just had to try it for myself. So over the weekend, I bought myself a top-of-the-line SanDisk Extreme III 2GB Secure Digital memory card from eBay to try it out for myself.
ReadyBoost works for all sorts of memory devices – USB, CompactFlash, Memory Stick Duo, XD, SD and anything else you can slot in your integrated card reader. I actually already own a 2GB SanDisk Cruzer Micro USB stick specially optimized for ReadyBoost which works as described, but it feels quite awkward having a USB drive sticking out of your laptop whereever you go. Especially when I just toss my laptop in my bag, I don't want to break anything.
The benefit of a SD card or any other low-profile memory cards is that it can 'slot' into your card reader, and appear hidden without anything sticking out. Such a small aesthetics difference actually makes a huge impact on the experience, it feels like nothing is there. Of course, there are exceptions to this with certain laptop models where the card reader isn't as deep as it should be, but the Toshiba Portege M400 works as planned.
After setting up Windows to use 1900MB of the available 2GB space, the activity indicator started flashing immediately. A good sign that something is working. It would continue flashing whenever I launched a program, and several times during idle, also good signs that something is happening. Just to check exactly how much is happening, I loaded up the Resource Monitor and looked for activity on the ReadyBoost cache file.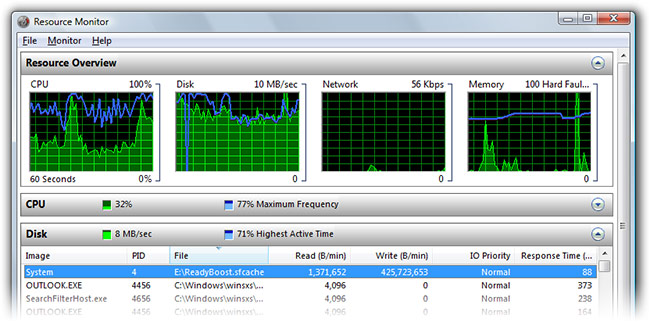 After loading up Outlook for the first time, the system was writing to the ReadyBoost cache at about 6MB/s.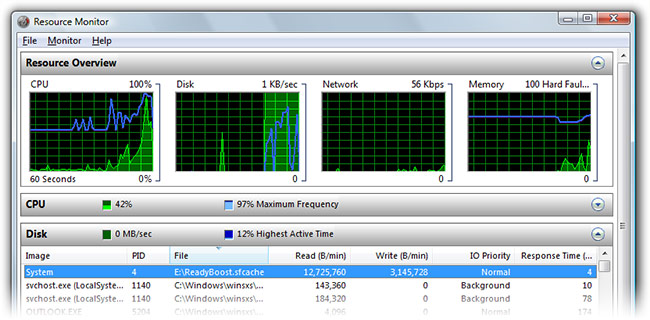 On the subsequent load of Outlook, there was little writing activity and a lot more reading at about 2MB/s.

The immediate benefit can be seen in applications such as Outlook and Office OneNote. Previously, Outlook took at least 3 seconds to load the inbox from standby in the task-tray. With ReadyBoost, this is almost instant. The same can be said for OneNote, where it took over 5 seconds to load the application and notebook, now takes under a second for both. Most other applications like Internet Explorer and Explorer also became snappier. Resume from system standby was also quicker to load to a usable state. Even the forever-to-load Photoshop benefited marginally.
However, this did not apply to all application. ReadyBoost did not seem to have any effects on Mozilla Firefox. It still takes around 5 seconds to load, even after loading the application several times during the same minute.
Even though I've only been using ReadyBoost for around 12 hours, but I feel like it was a worthwhile investment. The benefits might increase over time as the cache becomes more developed and intelligent. However, what I don't agree with is how ReadyBoost has been marketed and perceived by the public. ReadyBoost does not improve performance, it only improves responsiveness. It won't make your system or Photoshop run any faster, but it will make things faster to load and initialize to a working-state.
If you're on a budget, then ReadyBoost is premium accessory that is definitely not value-for-money. You're literally paying a price to slice milliseconds off loading times. But if you're a professional or heavy business user, then ReadyBoost might be a cheaper, easier or the only alternative to upgrading memory.
Update: There are clearly some bugs with ReadyBoost in the RTM version of Windows Vista. For example, sometimes after resume from standby, ReadyBoost fails to initialize at all even though the setting is enabled. Other times after standby, the system disables ReadyBoost because it doesn't think the device is fast enough, and you'll have to manually "re-test". Hopefully these will cleared up by patches in the not too distant future.
Update 2: Reader Tom Chachamu has an excellent comparison the difference between responsiveness and system performance. ReadyBoost enhances the former.
High responsiveness: the system "feels fast" and you don't have to wait for something to load when you're about to go to a command. (Example of high responsiveness: when you logon, you immediately want to go to the start menu and launch something. The time from logon to launch is a busy wait for you.) – this is affected by readyboost.

High speed: the system performs computational (or I/O) tasks fast. (Example: you are ripping a massive library of CDs. It takes about 10 minutes. If it took less time, say by offloading floating point calculations to the GPU, then that would be high speed. It's still longer than half a minute so the system is fast, but not responsive. When you're encoding the CDs, you can do other useful activities, so it's a non-busy wait.) – this is not affected by readyboost.