Today, Microsoft released a bunch of new games under the "MSN games for Windows Vista" branch, showcasing popular arcade games refreshed and exclusive for Windows Vista. Seven games in total make up the launch line-up, with one coming soon. These games will not run on XP, only Vista, making them unnecessarily targeted towards early adopters. One game in particular has attracted my interest ever since it's unveiling at CES, and that is, Geometry Wars: Retro Revolved for the PC.
There's a reason why Geometry Wars has been so popular on XBOX Live Arcade, because it's fun. It's mindless shooting action with the sole purpose to survive and attack everything you see. And you do that in a very vibrant and colorful environment with mega-points to match. Big numbers make people feel good about themselves. It's a quick and easy game that screams to be played whilst waiting for the train or during a very boring lecture, and that's why I was so excited to hear it coming to the PC.
I downloaded it, played it once, uninstalled it and will never play it again.

I really feel this an attempt to abuse a cash-cow product to make more money without putting much investment or effort into adapting the product for a different market. What you get is an XBOX game that doesn't fit the requirements and expectations for a PC system. The graphics aren't up-to-par with high-resolution PC displays and there is an extreme lack of options and customizations. I can't even use my tablet stylus to control the aim!
My high expectations are the result of sampling many free Geometry Wars alternatives readily available on the PC. My favorite, and obviously Microsoft legal team's favorite one too, is Grid Wars 2. This is what Geometry Wars for the PC should have been. An abundance of settings and customizations with high-fidelity graphics (if you system can handle it); colors, styles and effects you can mix-and-match; customizable controls with tablet PC support!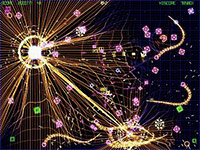 Sadly as a preemptive action before Geometry Wars's launch on the PC, Bizarre Creations asked the creator to remove and stop working on the Grid Wars game because it was "hurting sales". Luckily for you and me, the internet has a way of archiving and distributing content like no other medium. Just ask Google.
What makes me angry is how Microsoft is trying to capitalize on this poor attempt by charging $7.95 per download, which is an absurd 60% markup over the XBOX version for $5. As one user on the Gamerscore Blog noted, you don't get XBOX achievements, not even an global leaderboard and certainly a game not as good.
Save yourself $7.95 and the effort, get Grid Wars 2.