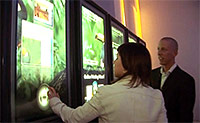 Microsoft Germany must have a pretty big marketing budget to pull off a few of the most extravagant presentations I've seen. Only yesterday I wrote about their interactive presentation at CeBIT 2007 but today I've found another Microsoft event in Germany that deserves to be applauded.
Back in January, Microsoft hosted the launch event of Windows Vista at the HVB Forum in Munich, which featured one of the demanding installation of Ventuz solutions to-date. In it, was some of the coolest interactive displays I've ever seen, including a wall of interactive content displayed on touch-sensitive plasma displays using light barriers totaling a resolution of 4608×1366. Oh, and did I mention the giant interactive projection controlled by nothing but your hands?
Even an otherwise stupid downhill collect-em-things racing game becomes awesome on a motion-controlled giant projection screen spanning at least 100-inches. Credits to Second Unit Services for the above video and all the post-production work showcased at the event.