For those of you quick jumping to conclusions without reading the whole post, no, this isn't the Zune Phone. It might however lead to features for the Zune revision 2.0. I'm sure the Zune guys thank you for thinking about them.
A bunch of new patent applications by Microsoft were published today like they do at the start of every week, and one of those was an application for "color and context-adaptable hardware button". Now the title would suggest it isn't exactly rocket-science stuff, but nevertheless still interesting – one might say a simple yet practical idea. So I decided to check it out anyway. It was originally filed in 2005, so not exactly hot out of the oven, presumably stale or even moldy. Lo and behold, pictures (or what some may call poor photocopy scans) appeared of an unidentifiable yet intriguing portable media device. To say the least, much more interesting than the buttons.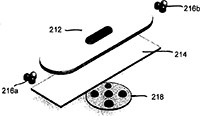 So first let's get the color and context-adaptable buttons out of the way. The idea is extremely simple. The D-Pad as most gamers are aware of is a directional pad with at least four possible inputs, up to five in some cases – left, right, top, bottom, and maybe center. This however was not always so intuitive as they merely indicate direction.

What this patent suggests is that if you place a electronic ink display (214) on top of the D-Pad (218), together with a cover (212) and lights (216), you can create an input mechanism with changeable icons, animation and text on each of the four/five buttons.
Think of it as a D-Pad like the keys on an Optimus Maximus keyboard. Right, so fancy buttons. Moving on. If the patent office wasn't so outdated with their 2-bit photocopying and archiving technologies, we might have had some really high-quality color models here. Unfortunately, they're still using 60's technology so you're going to have to live with these barely-visible images.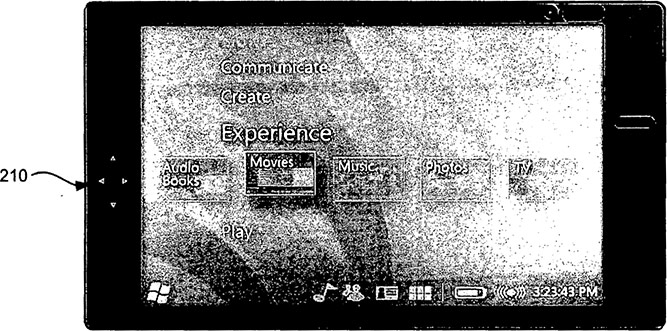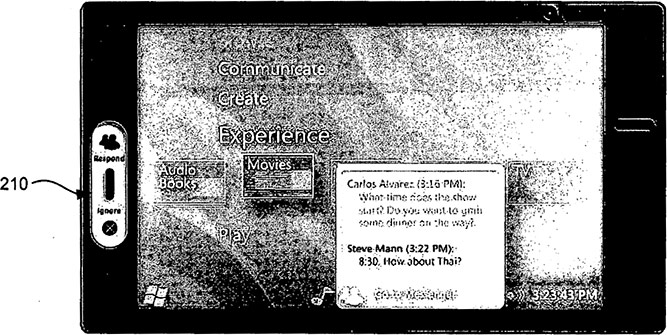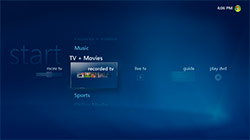 It's only two black-and-white images that looks like its been photocopied at least 20 times, but it still shows a lot of interesting features. For example, the visible menu interface is much like if not identical to the interface you would find on Windows Media Center. Each 'category' is sorted vertically, with the active category showing the various functions on buttons laid out horizontally across the middle of the screen. From only what's visible, there are "Audio books, movies, music, photos and TV" available under "entertainment". The other category includes "communication" – phone and/or instant messaging perhaps, "create" – ambiguous but perhaps recording and mixing content, "play" – maybe games? It's not entirely clear from just the categories but it shows a lot of promise.

Underneath is probably the most unexpected feature, a Windows icon. Could that suggest such a device would be powered-by a fully functioning variant of Windows – may that be Embedded or Mobile? If so, then it would open a whole universe of applications and third-party extensions. Then there are icons for music, messenger, contacts, and some blocks. Battery, wireless and time indicators are also visible.

The next picture shows a messenger window popping out from underneath, with a conversation actively in progress. A "Go to messenger" link is also provided confirming the existence of Messenger on the device. Note, the D-Pad buttons changed, as the patent is originally designed to demonstrate, to the various options relevant to messenger-context actions like "respond" or "ignore". Neat stuff.
It's easy to lose yourself with the idea that this device is actually real, because it most likely isn't. Remember, this patent application was not designed to describe the device as much as it uses the device to illustrate a scenario where context-sensitive buttons might be useful. The device may or may not be just a render or mockup. But something to take away from all this is that Microsoft or at least one lonely person at Microsoft is thinking about a device which can do all of the above, and has considered it seriously enough to make a mockup. Such a person being either Jonathan D. Friedman or Christian J. Colando – the inventors of this patent, should talk to the Zune team immediately.
P.S. My heart goes out to the friends and family of the good Samaritan who was helping a gun-shot victim in Melbourne today only to be shot and killed himself.