Call me picky but this little Microsoft web advertisement has been bugging me all week. For some strange reason, it's popping up all over almost every website I visit. Either Google's contextual targeting algorithm is seriously buggered or Macrumors.com has a secret agenda to sell me Microsoft Dynamics.
The advertisement in question is a 300×250 Flash animation for the new Microsoft Dynamics suite. There's nothing wrong with it except it's sole and entire selling-point is flawed. Take a look on the right and see if you can spot the Achilles' heel. Refresh this page if you have to get it to replay.
If you see it, congratulations, you win an iPhone. For those of you that don't see it, try to focus on the animation, then look at what applications they're comparing and maybe do a little comparison with a copy of the same application on your own computer.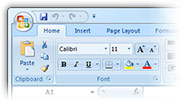 That's right! They even make the same mistake again on their website. They imply Microsoft Excel 2007 has toolbars and menus, when it doesn't. Their whole "familiarity" – taking icons from A to B – argument falls apart when you compare the Ribbon interface in Excel with the traditional toolbars and menus interface in Dynamics, they're two completely different interfaces. How's that for cross-application consistency.
Looks like your business goals aren't going anywhere whilst you re-train your staff for two different user interfaces.
Update: A number of Dynamics applications does feature a portion of the Ribbon interface in some of their interface screens. The interface is still a far cry compared to Office. It's got back and forward buttons, a hybrid breadcrumb navigation bar and a sidebar. It's amazing to see how acceptable messy business applications can be.