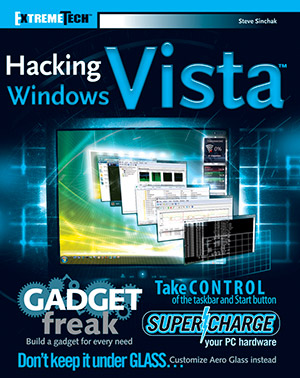 I've never been a big fan of computer books because if it's in a book, it's probably on the interweb. But relying on this 'internet' might not be as reliable as Senator Ted Stevens explains, the internet is made up of tubes and those tubes can be clogged. I'll spare you the rest of the Senator's scientific explanation, but basically it's probably a good idea to still buy books.
Speaking of books, Steve Sinchak's latest masterpiece is "Hacking Windows Vista". The book tells a story about a young man by the name of "Windows Vista". The youngest sibling of the Windows family, Vista is much improved than his older brother, Eks-Pee, but he is still far from perfect.
In the first act, the story begins with Vista looking to change his appearance, especially his interface. Vista becomes a frequent in several plastic surgeries including the "Registry" and "Control Panel". In the second act Vista is off to tone up his fitness for improved performance. He is able to achieve a few gains by turning off some unnecessary organs. In the third and last act, Vista is feeling a little insecure from the school bullies. He identifies his weaknesses and hires several protection services including "Defender".
In all seriousness, "Hacking Windows Vista" is a great all-in-one collection of most Windows Vista tweaks known to date. It's very easy to read and follow with clear instructions illustrated by bundles of screenshots. The variety of tweaks include the most basic like hiding icons in the task tray to the more advanced modifying resource files for the sidebar background.
I must admit though by having come across dozens of tweaking and hacking sites including Steve's own TweakVista.com, this book didn't contain much that hasn't been documented before. So if you think you know all the tweaks out there, you're probably right. This book is more catered towards the user who likes the idea of tinkering with his Windows with some confidence – not "this tweak may render your system inoperable".
Due to an error, I've received two review copies of the book from Wiley Publishings. I tried reading two books at a time but that didn't work out very well, so I'm going to give both away.
To be eligible to win, write a comment below with your name and email address. Bribes are accepted via PayPal. Winners will be announced on the 11th of September 2007.
Update: The winners have been drawn and notified by email.