Six months ago, Microsoft Australia trialled an unique approach to combat piracy amongst students called "It's Not Cheating". The program has since been hailed a success with today's announcement of similar programs, "The Ultimate Steal", in Canada, United Kingdom, United States, France, Italy and Spain.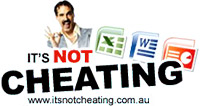 In fact, the original program was such as a success they even decided to keep the 'cheating/stealing' connotation, the corny stock photo that makes it look like a scam, but best of all, the ridiculously low price of US$59.95.
Beginning today, students around the world with an eligible university email address can purchase one copy of Office 2007 Ultimate edition at a discount of over 90% retail price. Alternatively students outside the US can even purchase a yearly-subscription for an even lower price if they're feeling cheap. This is a limited offer until April 30, 2008 so don't hold it off. However to minimize cost, users will have to download a considerably large file from the website to install.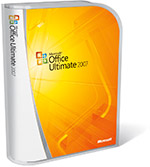 The reason Microsoft is doing this is simply discouraging a generation of young students growing up to be the most pervasive software pirates of tomorrow. If you can buy legit software for the same cost and effort you're going to spend finding a torrent, downloading that torrent, burning a CD, finding serial numbers and cracks then finally installing it – not to suggest I've ever done such things – then it's more attractive to buy legitimate and hopefully stay legitimate. You could also argue Office suddenly becomes a much better contender the free Office-alternatives like OpenOffice, but I would have said Office 2007 was already years ahead functionality-wise.
Australian students might feel a little cheated (no pun intended) from the latest offer since it's not available in Australia, but I have good news. The offer is expected to return to Australia next month, mid October, under the same "It's Not Cheating" program. My guess is the price will remain at the original AU$75.