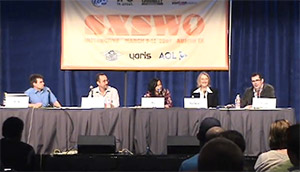 At this year's South by South West Festival (Burning Man for geeks), former Microsoft design director Tjeerd Hoek made an appearance as a panelist on the session titled "How to Create A Kickass In-House Design Team". The full-length podcast recording has been finally released just a few weeks ago. It is definitely worth listening to if you have an interest in design, working in an in-house design team, or some insight into how Microsoft Design worked.
Tjeerd, for those who don't know, was the Microsoft design director for Windows until April this year. He was largely responsible for managing the entire Windows design process including Windows Vista from start to finish. Alongside Tjeerd was a host of notable design directors from Google, Intuit and Hoover's.
The panel was focused around "in-house design teams", that is design groups inside a large organization dedicated to serving the design needs of the entire organization. Microsoft's in-house design group is appropriately named, "Microsoft Design". As such, Microsoft Design is responsible to design not just the user interface but every aspect of user experience including notably packaging and brand for most Microsoft products.
One of the many interesting facts Tjeerd points out is that in-house design teams don't charge other internal groups (19:50min). Whilst that might sound very trivial, it reveals the problem of undervaluing the work being done. Because there is no transaction of money involved from the design group to another group, the work process and result is not valued as much which might lead to overloading the design team with unnecessary tasks, preventing more visionary strategic design. It's not hard to imagine this being the case at Microsoft Design.
Ironically near the end of the session they discuss how to prevent losing key people in a design team. Of course a few weeks prior to this panel, one of the most reputable Microsoft designers, Jenny Lam, had left to join an ex-Microsoftie startup. Then a few weeks after, Tjeerd himself left Microsoft to join a reputable international design agency, Frog Design. Perhaps someone at Microsoft should have took note.