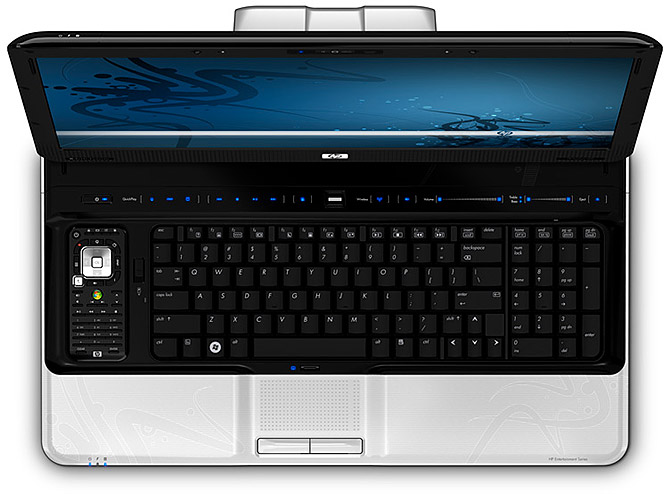 "20-inch" and "notebook" are two words that should probably be never used together in a single sentence. This computer gives new meaning to "the straw that broke the camel's back", but on the bright side, the camel can enjoy a feast of entertainment choices on this somewhat portable powerhouse.
A HP PR representative sent me an email asking if I was interesting in participating in a bloggers program to test drive Hewlett-Packard's new Pavilion HDX9000 Series entertainment notebook PC, otherwise known as the "Dragon". Being a sucker for freebies I gladly accepted. And today it arrived.
Disclaimer: This notebook is on-loan from HP for purpose of this review, playing games, watching movies, smudging and weight lifting. For that reason, my judgment on how awesome it is may be impaired. However, trust me on one thing, it doesn't make it any smaller.
The pre-production model I received has inside:
CPU: Intel Core 2 Duo T7700 (2.4GHz) (engineering sample)
Memory: 2GB (2x1GB) DDR2 PC2-5300
Hard disk: 2x160GB Seagate Momentus 5400.3
Graphics: ATI Mobility Radeon HD 2600 XT 256MB
Display: 20.1″ widescreen Ultra Brightview LCD (1680×1050)
Optical: LG SuperMulti CD/DVD (Dual layer) LightScribe burner
Wireless: Intel Wireless WiFi Link 4965AG
Ethernet: Marvell Gigabit Ethernet
Bluetooth: HP Integrated Module with Bluetooth 2.0
Audio: SigmaTel High Definition Audio
Tuner: Built-in HDTV DVB-T & Analog dual tuner
Battery: 9 Cell Lithium Ion Battery
Connectors: 4xUSB, 2xheadset jack, 1xmicrophone jack, 1xIR receiver, 1xIR emitter jack, 1xS-video-in jack, 1xTV antenna jack, 4xaudio jack, 1xHDMI, 1xeSATA, 1xFirewire, 1xethernet, 1xExpressCard, 1xVGA, 1xExpansion Port 3, 1xcard reader (SD, MS/Pro, MMC, XD)
Speakers: 4 Altec Lansing audio speakers with integrated subwoofer
Accessories: integrated webcam, detachable media remote, integrated microphone
This setup scores itself a Windows Experience Index of 4.7. Unfortunately the 5400rpm hard disks and memory pulls down the overall score from above 5. More on performance later.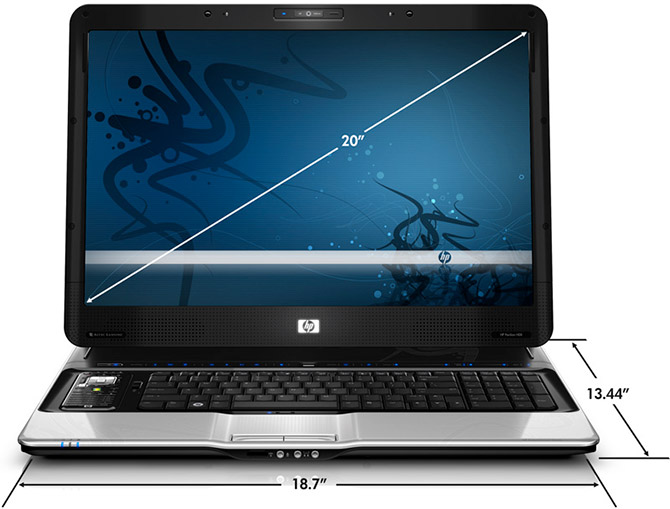 If you haven't gathered already, the "Dragon" is a desktop replacement notebook. The "notebook" part of this computer is only used to describe its slim-line and foldable form factor. If you want to move this machine around, you can, but you'll want to put it on a hardy surface for long-term use. The 20-inch widescreen display doesn't fold away like an origami, so the size of the body is just as wide, which leaves an enormous footprint. It is also quite heavy, weighing about 7kgs, which has the positive side-effect of stabilizing itself. There's no way you could nudge it without lifting any of the 9 rubber foots. You definitely don't want to carry this anywhere in a backpack, even if you can find a backpack to fit it. None of the standard laptop bags I have could fit it.
Based on the logic "you get out what you put in", you can imagine how much juice this machine sucks. Many of the other reviews have described how big the power brick is. I thought they were just exaggerating, but they weren't.
Lately HP has been working their industrial designers pretty hard to come up with some refreshing designs for their new-generation PCs (ex. TouchSmart) and their hard work really shows in the details.
Subtle stylized line-art covers the entire back-cover and front metallic panel gives it an unique finish up-close.
The coated gloss finish also serves as a surface for oil-based finger paintings.
The remote clicks in perfectly beside the keyboard and can be removed easily by sliding a slider on the right. The neat thing is that it also works whilst docked in the keyboard, even though it's not pointing at the IR receiver on the front.
A range of indicators with cool blue LEDs line up the top of the keyboard.
A fingerprint scanner sits directly in the middle of this row. Right-handed users like myself might feel this is a little uncomfortable to use since it's so far left in relative to where the right-hand usually lies.
And the coolest thing is that they're touch-sensitive using capacitive technology. To turn on or off the wireless, simply tap the wireless indicator. To change the volume, simply drag your finger across the volume bar left or right.
Not only does it look cool, this touchpad feels much smoother to use than a traditional touchpad. The dedicated vertical scrollpad is a huge plus. Special note, this touchpad also work if your fingers are wet. Traditional touchpads don't work if you've just washed your hands, this one has no problems picking up wet fingers.
I also really like the mouse buttons for the touchpad. Having used some clunky buttons in the past which don't really quite click unless you click the absolutely middle and when you do click they make a loud sound, these large and rounded buttons make very little noise and are extremely soft to click.
The integrated webcam sits neatly inside the top bevel of the display screen. Because it is embedded into the panel, it only allows for slight vertical tilt adjustments.
To top it all off, a light-up HP logo on the back panel.
There's even room to draw my own stickers. Just kidding. This pre-production sample is missing stickers.
The screen is held up by two hinges which act independently to control tilt and angle. What it allows is the screen to face up without going 'behind' the keyboard. However because the hinges don't have any 'locks', if you touch the screen, it will move. The screen also doesn't 'sit' on the bottom panel, so it floats a few millimeters in the air. It will however not move by itself – the hinge will hold its position if you don't touch it.
So much of this machine is the display, both by size and by feature, so the expectation is set pretty high.
This photo doesn't do the screen justice, but I'm glad to say this is a gorgeous display. The warm-up time is really amazing, taking only just a few seconds before reaching full brightness. I don't have the brightness or contrast specifications with me, but the whites are bright, blacks are dark and the colors are really vivid. The viewing angle is very good as well reaching around 160 degrees horizontally. There was only a small amount of light leak at the top and bottom of the display, which can be seen if you paid attention during black screens.
The screen is however a reflective screen which helps produce the deep blacks and vivid colors, but also produce screen glare. Whilst the high brightness helps, there's not much else you can do about the glare except to move the unit around, which you can.
Noise-wise, this machine is absolutely silent. It'll be hard to believe me when I say this, I don't even believe it myself, but I can't tell the difference between when this machine is on or off. Only when you lie your head on the keyboard, you can hear a slight noise of some fans spinning but at sitting distance it's pure bliss. Even when I run graphics benchmarking software, both the GPU and CPU don't seem to create any more noise. I don't know what sort of cooling magic they've got going under the hood, but it's one of the best I've heard so far. Absolutely perfect for movies.
Speaking of movies, believe it or not there are 5 speakers on this machine. There are 4 at the front panel and one subwoofer. Having experienced some ear-damaging notebook speakers in the past, I was a little skeptical on how this would work. Altec Lansing is of course a trusted manufacturer of reasonable speaker systems so that helped, but I still don't think this audio experience can compare with even a $75 desktop speaker set. For one, the speakers at the front panel are extremely directional. If the screen is not tilted facing directly at you, the sound will be considerably quieter and hollow. The bass is a nice addition and produces reasonable low frequency effects, but I find because the base is not on the ground, it creates a lot of vibration on the table which could produce unnecessary rattle if you have an unstable table.
On to the software experience, the default operating system is Windows Vista Ultimate Edition 64-bit. I normally wouldn't load 64-bit onto any of my home computers to avoid drivers incompatibility, but since it came preloaded it was guaranteed to work at least.
I was a little dissapointed by the first-boot experience. I haven't bought or used any HP products recently so I'm not familiar with their bundling strategies, but by the looks of it, it still doesn't look good.
The absolutely first thing you see load up on the screen aftering booting Windows, before anything else pops up, is Norton Internet Security. To be blunt, I'm not a big fan of Norton's so I might be biased here, but in this day and age, I don't think nagging the user with setting up a Norton subscription is the most pleasant first experience with any computer.
The default list of startups and services has 70 processes running at boot. Most of excess processes besides the Windows defaults are from Norton and a bunch of HP modules. Most of them seem appropriate to serve some sort of useful functionality so I didn't bother fiddling with it. The high-performance processor also helps reduce its effects leaving the machine feeling pretty snappy otherwise.
On the same note, the default list of installed applications is also not a pretty sight. Most of them are actually necessary components from HP but SlingPlayer and Vongo should have been installed-on-demand rather than by default. In HP's defense, this is obviously a sample unit produced for the US-market so the Australian version may differ.
Then I'm constantly nagged by these intermittent HP popups and reminders which happen every 5 minutes or so after initial boot asking me to purchase additional offers. I understand the whole concept of up-sell and I see how these offers may interest specific customers, I really wish there was a "do not show anymore offers" option so if I'm not interested, I really mean it.
The second hard drive actually didn't come pre-formatted, so it actually didn't show up until I added a partition to it, which I'm sure is just a oversight for this sample. Other than that the defaults are stealing around 50GB of space including the recovery partition.
A quick benchmark in 3DMark 2006 gives a result of 4201 which is quite reasonable for its specifications. But however for the same price on a desktop unit you're looking at at least a 1000 to 2000 improvement in performance marks. The question is form factor over performance, you can't have both, yet.
A quick match in my new favorite game, Team Fortress 2, proves this machine is very capable. At a resolution of 1680×1050 with every quality settings on high and 2xMSAA anti-aliasing and Anisotropic 2X, the game ran at an acceptable average of 30 frames per second. Optimally for long-term play, turning down the graphics resolution and setting will obviously increase the FPS much more.
HP also ships a software called "QuickPlay" which is prominently featured in the touch-buttons as well. QuickPlay feels to me like a bit of a "me-too" Media Center replacement. It is designed specifically for HP machines so it integrates a lot of the HP-specialty features like webcam, but it also duplicates a lot of the same functionality in Windows Media Center, rather poorly I might add. The design isn't not nearly as intuitive as MCE. The "green button" on the remote actually still launches Media Center so the choice is still available.
There's also a pretty cool wallpaper featuring the dragon theme which I thought I'd share.
The HDX 9000 currently retails for approximately US$3,000 in the United States. They will be launched in Australia at the end of next month in October. The recommended retail price for the HDX 9003 model is AU$4,999 and HDX9004 is AU$5,999.
This machine makes a great alternative to the living-room Media Center boxes because it is so slim, beautiful and quiet. On the other hand, for the same price you could do yourself a much more capable desktop PC which has the added advantage of future expansion. For whatever reason if you do decide to own one of these, you won't be disappointed though.
Update: Forgot to mention the battery. Yes, this notebook actually has a battery for good-luck's sake, because it sure isn't for any productive use. Windows Vista reports an estimated lifespan of 2 hours in idle. From my personal experience, you're considered lucky to finish a 90 minute. To me the battery serves as more of a UPS-system than anything else.