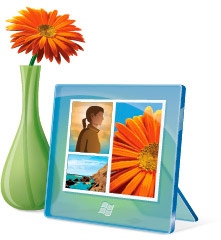 To someone who deals with photos quite often like myself, Windows Photo Gallery is one of the most impressive built-in applications in Windows Vista. It is both functional and beautiful to work with. Needless to say, Live Photo Gallery is icing on the cake – moist, delicious cake. And the cake is not a lie.
Before today, Photo Gallery satisfied most of my post-processing needs through the basic but effective adjustment tools. All that was missing was the link between editing my photos and archiving and sharing the photos on Flickr. However in the latest Live Photo Gallery update delivered just today, Flickr uploading has been integrated right into the application so it's literally become the tool in my workflow.
The progress the Digital Memories Experience (DMX) team has made in the past 6 months is amazing, especially for a free application with no revenue model. A lesson the Ultimate Extras team needs to learn. And I'm even more excited about where they're heading.
In a job posting today by the DMX team looking for a Software Development Engineer, they dropped a few hints on what to expect in the next generation of Photo Gallery.
Think of all the digital photos and videos that you have taken recently, and those that you receive from your family and friends through the year. These photos and videos are no doubt precious and important to you. We all value these moments and we want to easily relive these memories and to easily share them, all through a 21st-century user-interface that is elegant and polished. Don't you want to be on the team chartered with bringing a world-class experience to collecting, organizing, creating, and sharing these memories?

Now is an ideal time to join the Digital Memories Group as we wrap up shipping the Windows Live Photo Gallery in the new Windows Live Suite and prepare for the next wave of features. We're a high-quality development team creating features for a fun and highly competitive photo and video space, a space that matters dearly to millions upon millions of people. It is also a space where Windows Live can show the worth of an elegant rich client collaborating with connected services.

We need a talented, creative Senior Developer who is passionate about the future of digital photography and video usage and who has a special interest in consumer-focused elegant UI, in addition to being ready to improve the Photo Gallery's ability to collect media, organize and arrange the media, and share that media a variety of ways, including up in the cloud. Think of all the places where photos appear and how easy it should be for our customers to get their photos out there and to bring in photos they find interesting. Looking at our road ahead, we have abundant opportunities for developers seeking challenges and career growth and have exciting challenges around making the complexity of a connected rich-client easy to understand.

The Digital Memories Experience team (DMX) is helping people make deeper connections with those they care about. We want to give you the ability to effortlessly share your memories, be that a simple slideshow of photos and videos (e.g. evolution of the Vista Slideshow or of Photo Story), a carefully authored experienced (evolution of Movie Maker), or a fully interactive cinematic multimedia experience (a narrated 3D path through a Photosynth that you can control). And we want to make it easy and fun to enjoy your photos and videos, whether that is on the PC in your office, the Media Center in your living room, the XBox in your entertainment center, or on your mobile device when you are out and about. DMX is a part of the Windows Live Experience division (WLX/LEX), which also includes Mail, Hotmail, Messenger, SkyDrive, Spaces, Writer, Calendar, and Family Safety. To achieve our vision for digital memories we work with many other teams including: Core User Experience, Find & Organize, Graphics (Windows Imaging Codecs – WIC – and DirectX) in WEX, MCE, Expression, and Xbox. [This paragraph brought to you by our love of keyword targeting :)]
PhotoSynth creator? I'll trade you my Weighted Companion Cube. It's worth everything.