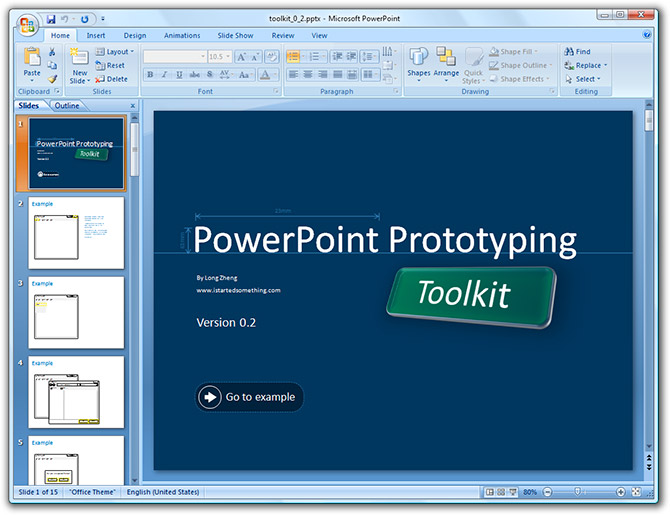 After hearing about the impact and success it had in Microsoft, I couldn't wait to get my hands on prototyping in PowerPoint 2007. Amongst a few things Manuel Clement suggested a few weeks ago in his presentation about "wireframe prototyping with Office PowerPoint 2007", was to create a toolkit of commonly used GUI components to copy and paste when designing the prototype screens. That's what I set out to build.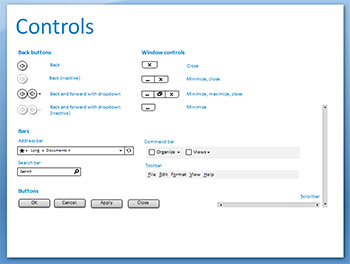 My vision for a toolkit is to contain a set of all the possible and feasible GUI components you could otherwise use in designing a real Windows application or browser application. For example, it should include buttons, drop-down lists, window frames, toolbars, dialog boxes and address bars. Of course there are probably as many of those as there are stars, so I'll just have to focus on the most commonly used ones.
I imagine I'm not the only one excited by prototyping in PowerPoint, so others might need to build similar toolkits as well, then why not make it publically available? I'm glad you asked.
Downloads
After a few hours of work, it's currently very limited and only supports a handful of the control I require to show off my short demo, but I hope it gives you a taste of what I intend to do with the idea. Press F5 (start slide show) to see the demo in action.
I'd love to hear everyone's feedback on what is there currently, what can be improved, what can be added (or removed). I'm also considering making this an "open" project so everyone can contribute to essentially a toolkit library. If you think this is a waste of time, please tell me that too.
Update (18/10/07): Changes in revision 0.2
Added start bar and start menu components
Added additional example screen with opened file
Added basic form field controls (radio buttons, checkbox)