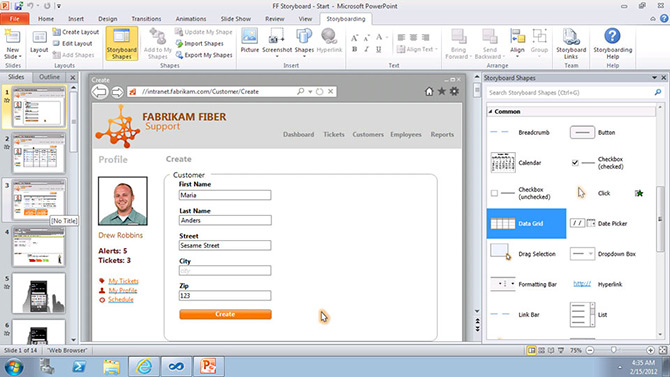 During today's sneak peek announcement of the monochromatic Visual Studio 11 Beta to be released next week, Microsoft slipped in a new screenshot of the PowerPoint Storyboarding tool that will ship as part of Visual Studio 11.
The tool which ships as an add-in for PowerPoint will allow designers and developers to quickly mock up wireframe-based prototypes of their application using familiar presentation tools and animations, along with a host of UI controls which they can drag and drop to replicate a real application experience.
Windows desktop, Windows Phone mobile and web applications are all supported with a range of templates and controls suited to each scenario.
In contrast to Expression Blend SketchFlow which builds XAML-ready prototypes with real controls stylized to look like sketches, I think PowerPoint is a much easier tool for earlier stages of the design process. The fact that Expression Blend is dog slow, difficult to use and makes crappy XAML doesn't help its cause either.
Since it's been revealed internally at Microsoft they use PowerPoint to prototype designs, it's no surprise a need for such an add-in exists. The only catch however is that so far all signs of the availability of this tool has been tied to the enterprise-focused "Team Foundation Server" edition of Visual Studio.
The designer in me hopes this tool will make its way down to all SKUs of Visual Studio 11 since it'll make our job of making beautiful Windows applications that much easier.
Side note: I'm holding my breath to see the availability of .NET Framework 4.5 Beta which was also announced today. WPF applications like my MetroTwit would benefit from performance and memory usage improvements but the word is still out whether it will support all the current OSes – XP, Vista and 7.