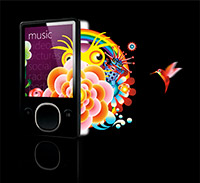 Together with the new TV advertisements for the 2nd-generation Zune launched weeks ago, they also launched a promotional flash website at zunejourney.net which can be simply described as psychedelic and trippy.
You might notice whilst you pointlessly scroll through space, music begins to play in the background, some of which are quite good. Of course, this was a Flash website so the music must have come from somewhere accessible by the browser so it wouldn't be hard to trace.
After unearthing the configuration XML file, the URLs to each of the MP3s were easily found. Here they are. My favorite is track 11, Dark Territory by Junky XL. Track 13, Lake Michigan is used in the "bunny" TV ad.
Theoretically, I don't want to steal music. I just want to play these tracks more often, without visiting the website. Disclaimer: Long holds no responsibility if and when FBI agents busts through your door warranting for your arrest for downloading music from the Zune website, plus any other illegal activity which you may or may not be conducting at the time.