Even if you don't own a Dell computer, there's a lot to thank them for how they have changed the concept of buying and selling factory-built computers. Besides being extremely competitive, they've also made computers customizable inside-out for all segments of the market both in the home and business. Which is why when Dell (finally) announced their Tablet PC offering, every tablet enthusiast scribbled with joy, including moi. Many believe and hope Dell could set the Tablet PC industry right, even if price is all they've got.
Latitude™ XT RTS (Ready To Ship) Dates
Americas
Brazil
Europe
APCC
Japan
CCC
12/03/07
11/16/07
11/16/07
11/16/07
11/16/07
11/16/07
But according to internal documentation (above), Dell's first Tablet PC, Latitude XT, was intended to ship in most regions outside America last Friday. Unfortunately it seems to have suffered a delay since it has not appeared on any Dell's regional websites. The delay might be related to the recent LCD shortage.
On the bright side, I do have some official technical specification information for the Latitude XT, more or less confirming the leaked specifications from a month ago.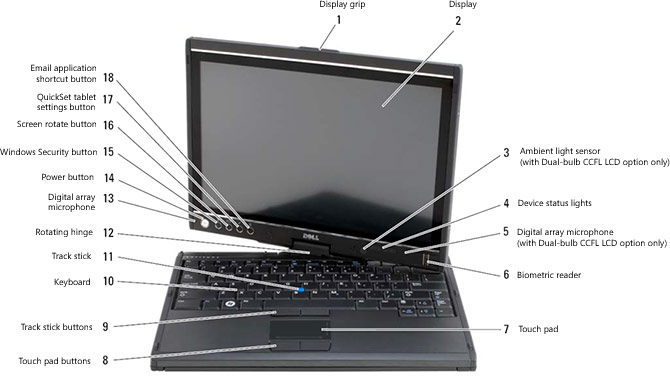 Product Overview
Features
XT
Processor type
Intel® Core™2 Duo Ultra Low Voltage
(Merom)
Processor speeds
Dual Core:
1.2 GHz (U7600)
System chipset
ATi RS600ME/SB600
Memory
DDR2: 1 GB at 667 MHz onboard, one 667 MHz SODIMM
Memory min/max
1 GB / 3 GB at 667 MHz
LCD types
Dual-bulb CCFL:
12.1-inch WXGA (1280×800)
LED back-lit:
12.1-inch WXGA (1280×800)
Video
ATI Radeon Xpress 1250
Video memory
256 MB of UMA memory plus variable HyperMemory™
Audio
IDT STAC9505 Codec
Digital array microphone (CCFL version only)
USB support
Three USB 2.0 connectors, one powered
Hard drive interface
PATA
Media bay options1
D-Bay drives:
24X CD-ROM
24X CD-RW/DVD
8X DVD
8X DVD+/-RW
Secondary 80 GB HDD
Media slice drives:
8X DVD+/-RW
Wireless options
WLAN:
Dell™ Wireless 1390 a/b/g Mini-Card
Dell Wireless 1490 a/b/g Mini-Card
Dell Wireless 1505 a/b/g/n Mini-Card
WWAN:
Dell Wireless 5720 Mobile Broadband Mini-Card
(various providers)
Dell Wireless 5520 Mobile Broadband Mini-Card
(various providers)
Bluetooth support
Dell 360 Bluetooth® v2.0
NIC (LOM)
Broadcom BCM5756 Integrated Gigabit Ethernet
Modem
External only (optional)
I/O card slots
ExpressCard™ 54
SD™ card
IR support
N / A
Connectors
Power
Video (VGA)
RJ-45 (network)
USB 2.0 (x3, 1 powered)
IEEE 1394a
Audio (headphone and mic)
Secure Digital (SD™) media card reader
ExpressCard slot
Operating system
Windows XP Tablet PC Edition 2005 (RTS= 12/10/2007)
Microsoft Windows Vista™ Business 32-bit
Microsoft Windows Vista Business 64-bit
Microsoft Windows Vista Ultimate 32-bit
Microsoft Windows Vista Ultimate 64-bit
Novell Certification
Red Flag Linux (China)
Docking support
Media base
AC adapter
45 W and 65 W (65 W ships with optional media slice and / or battery slice)
Battery
4-cell "smart" lithium-ion
6-cell "smart" lithium-ion
9-cell High-capacity "smart" lithium-ion (battery slice)
Weight
LED Backlit LCD
1.6 kg (3.57 lb) (with 4-cell battery)
Dual-bulb CCFL LCD
1.8 kg (4.0 lb) (with 6-cell battery)
And even more specifically about the display screen and tablet input device.
Both LED backlit thin-and-light LCD and Dual-bulb (CCFL) LCD options:
Panel design
12.1 inches WXGA
Display area
Horizontal: 261.12 mm (10.28 inches)
Vertical: 163.20 mm (6.42 inches)
Diagonal: 307.34 mm (12.1 inches)
Aspect ratio
16:1
Number of pixels
1280 X 3 (RGB) X 800 dots
Pixel pitch
0.204 mm X 0.204 mm nominal
Viewing angles
Horizontal
±70 degrees
Vertical
±70 degrees
LED backlit thin-and-light LCD option:
Luminescence
220 nits (typical)
Dual-bulb (CCFL) LCD option:
Luminescence
400 nits (typical)
Digitizer
Interface
capacitive touch
Input resolution
1000 dpi
Position report rate
133 PPS
Coordinate accuracy
± 0.4 mm (avg.)
Coordinate jitter
± 0.4 mm (avg.)
Pen
Dimensions
Length
133 mm (5.2 inches)
Diameter
9 mm (0.35 inches)
Type
two-button, non-battery powered