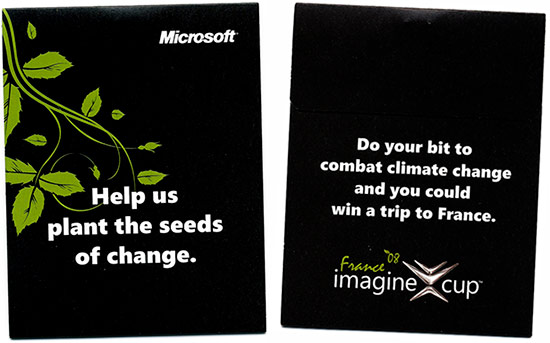 Yesterday I got one of these promotional pocket cards for Microsoft's Imagine Cup 2008 competition, and in it was a clever surprise. Imagine Cup for those who don't know is an annual Microsoft-sponsored competition exclusively for students worldwide to compete in a range of computer technology related categories including but not limited to software design, games development and film. This year's theme is the environment.
The special touch to the pocket card is a little piece of plantable seed paper attached to the bottom. It contains the seeds of a native Australian shrub called Callistemon. Whilst it would have been way cooler if the entire card was printed on seed paper, this is a great effort to do something positive for the environment as well as promoting native Australian plants.
Update: I've been told the concept was developed locally in Australia by marketing agency Wunderman. They have plans to take the idea worldwide to promote Imagine Cup with presumably different native seeds for different locales.