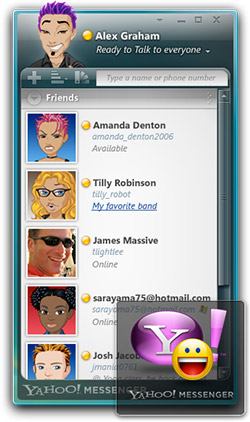 Better late than never is overstated, what took so long?
A preview version of exclusive Yahoo Messenger for Windows Vista is finally available today after almost 12 months of radio silence. Hard to believe this application was announced all the way back in January at CES 2007. During the same amount of time, Microsoft has delivered five versions (3 beta, 2 final) of Windows Live Messenger.
However above all, the new Yahoo Messenger is possibly the first real mainstream application to take advantage of Windows Presentation Foundation (WPF) and a number of Vista APIs for which I salute them for adopting new technology.
Comparing this preview release to the original conceptual design by Frog Design shows a number of subtle interface modifications but also a major disappointment.
Changes to the interface include the application windows are now encapsulated inside Windows Aero Glass frames. On one hand, this satisfies Microsoft's Vista user experience guidelines which suggests all windows use the standard frame, but on the other seem rather quirky because the application has two harshly different styles of transparency.
The major disappointment is the lack of voice, video and sharing capabilities which were widely fanfared and demonstrated at CES. These features simply don't exist in this version which leaves this client nothing more than just a fancy text instant messenger. The official blog states explains these features and more are coming in future releases which I hope isn't on another 12-month cycle.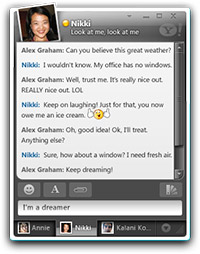 One of the major roadblocks for WPF applications has been performance and it looks like this application suffers the same fate. On a dual-core system with a more than plentiful graphics card, this application can't even render the emoticon popout opening and closing without obvious pauses. Generally when anything animates, CPU usage flies right up and performance hits rock bottom.
Along with the client is also a Sidebar gadget that allows for easy access to favorite buddies, a.k.a. people you want to stalk. Unfortunately I couldn't get this gadget to even load, where it would just display a red cross like an image failed to load in Internet Explorer. I gave up after several tries.
For more than 12 month's work, this application is an embarrassment. It looks great with a lot of fancy graphical wizardry, but there's not much here. Unless they fix the performance issues and add back the features which were exciting, it is simply not worth switching to from Windows Live Messenger or even Yahoo Messenger 9.
Update: I've heard some indication that Yahoo Messenger and presumably WPF runs better in Vista SP1.