To the untrained eye, Ammunition's Longhorn PC concepts last week might look nothing more than standard industrial design renders. But if you stared at it long enough as I did, you'd notice the Windows Longhorn screenshot on the monitor shows a taskbar is nothing like anything you've seen before. Since there's no official name for it, I've dubbed it the "double-decker" taskbar.
I've finally been able to track down the screenshot in its original form.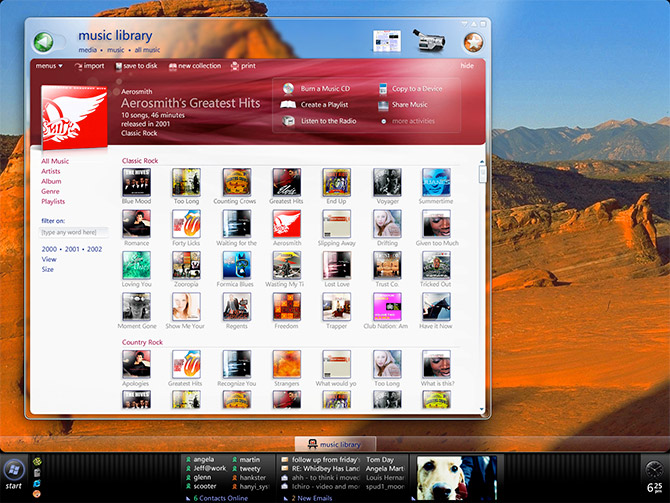 The story behind this is that during the Longhorn development process, Microsoft designers were toying with the idea of integrating what we know now as the Windows Sidebar into the taskbar itself.
To accommodate this, the taskbar became separated into two-levels where the application switcher was moved to a transparent row by itself on top. This freed up an incredible amount of screen real-estate on the taskbar itself which then could house Sidebar Tiles (as it was known at the time because each 'gadget' would dock as a rectangular tile).
The idea behind this was to avoid stealing another edge of the user's valuable screen real-estate, which unfortunately is a sad reality for Vista Sidebar users today. Instead, it would have resulted in a fraction less vertical space but a more widescreen workspace which is more desirable.

And it made sense to put it in the taskbar because it's also where a lot of the notifications are already displayed. In fact, you could even replace most status icons in the notifications area with Tiles to provide a richer user experience. For example, instead of an Outlook icon you can have an Outlook tile which displays a list of unread emails. The Messenger icon can also be replaced by a contact list as well as minified versions of chat windows. If this had been realized, the taskbar would have become much more powerful and informative than it ever has been.
Unfortunately as anyone who's familiar with Fitts' Law would know that by moving UI objects away from the edges of a screen is essentially removing its infinite width. Fitt's Law states because the cursor stays at the edge no matter how much further you move it, you can easily acquire these targets by moving the cursor in the general direction. Therefore by moving the application switcher away from the edge would have been drastically increased the effort required to toggle between applications. This was just one of the design problems that ultimately killed the idea.
Concepts like these are interesting because never before has Microsoft publically showed any interest in evolving the taskbar which remains a legacy of the innovation in Windows 95. Of course this now proves a lot more goes on behind the scenes that doesn't get nearly enough as credit as it deserves.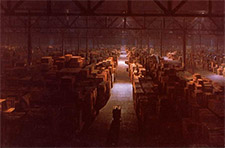 Sometimes I feel like Microsoft maintains a warehouse like the one in Raiders of the Lost Ark where it keeps all the abandoned ideas, which is unfortunate because outsiders can never understand what it takes to create the final product. As I've been told, thousands of concepts like these were created for Longhorn which resulted in Vista.
At the same time, people who look at these concepts can also be quick to criticize Vista. But the reality is, Vista is easily the highest quality user experience of Windows ever shipped. And that is the direct result of the same designers who put in years of work into Longhorn/Vista. Sure, some ideas had to be sacrificed but they've really pushed the boundaries of the Windows user experience and that's just not for this release, but many releases to come.