A couple of people, dozen at max, have expressed interest in testing out the soon-to-be-public Windows Vista Service Pack 1 Release Candidate release. There are many ways of installing and testing operating systems and even more so service packs so it can be rather confusing and cumbersome experience for some people out there. Out of all the possibilities, I do myself and recommend everyone to always start fresh, but that doesn't always mean from the command prompt.
Whilst release candidate will be a very good representation of the final product early next year, it still means you'll have to forfeit this release sooner or later so it is not recommended you replace your existing Windows installation with it. Especially with all the problems people have been running into uninstalling their service pack betas which itself sounds like a really bad idea anyway, it's ideal to set up a fresh install. And the most convenient fresh install is on a separate partition on existing disks.
Formerly the process of 'splitting' a partition involved third-party software which is time-consuming and sometimes unreliable, however a less-known disk management function in Windows Vista will simplify all that.
Preparing your new partitions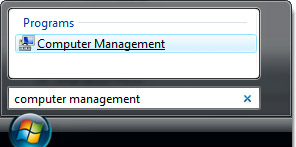 Step 1. Open the Computer Management tool by clicking Start and search for "computer management".
Alternatively for the mice enthusiasts, you can right click on your "Computer" icon and click "Manage".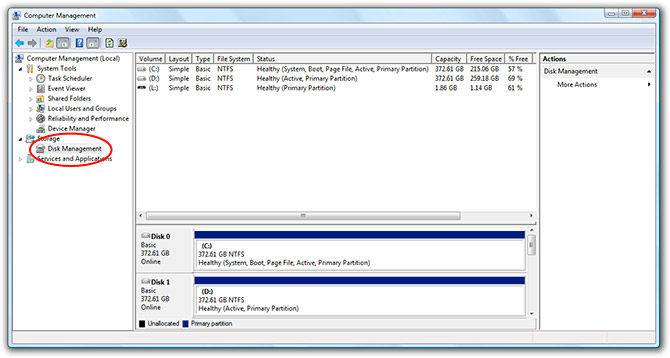 Step 2. Select "Disk Management" from the left task pane.

Step 3. Select the "Volume" you want to split. You can either click on the volume name in the table or select its graph below. Ideally you would want to pick a drive that's not your primary Windows installation with adequate free space. Here, I've picked my media drive (D:) where I keep all my 100% legitamate media downloads.

Step 4. Right click the volume, and click "Shrink Volume".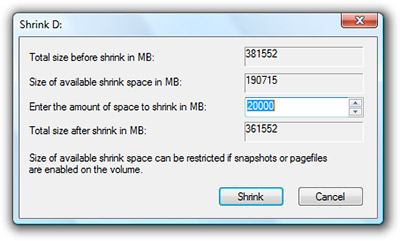 Step 5. Input how much megabytes (MB) you want to remove from this partition, thus will also be how big your new partition will be. For Vista SP1, I recommend 10GB+ to allow for installing and testing suites of third-party applications.
Click "Shrink" when you're done.

Step 6. Almost instantly your new partition (black) should be created.
You need to make it accessible by right clicking it, and clicking "New Simple Volume".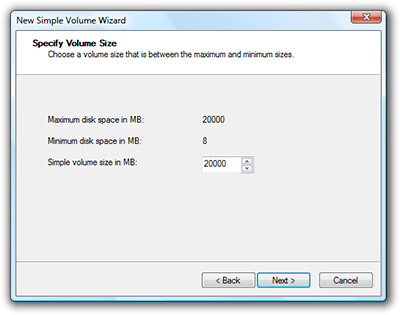 Step 7. Click "Next" in the welcome. And you would be crazy not to maximize the new volume size. "Next" again.
Step 8. I would recommend you to assign a new drive letter to make file management easier, click "Next".
Alternatively, you can also mount this volume to a folder path (ex. "C:\WindowsSP1\") if you wanted to.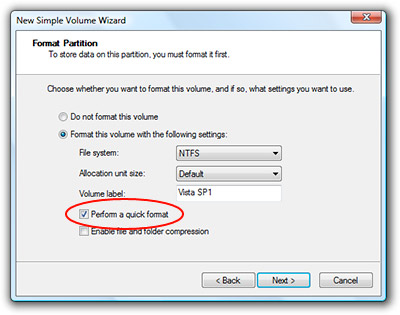 Step 9. It's useful to label your new volume to something like "Vista SP1" to make sure you don't format the wrong drive later on. But more importantly, you want to select "Quick Format". Even if you think you have a lot of free time, this is not time you want to waste. They didn't invent quick format without reason. "Next" and "Next" again to confirm.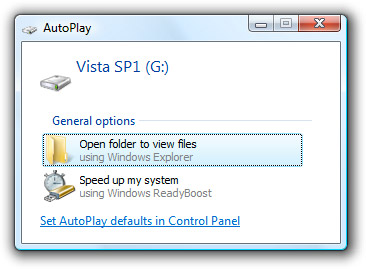 Step 10. Almost immediately again your new volume should be created. Now it's ready to install SP1.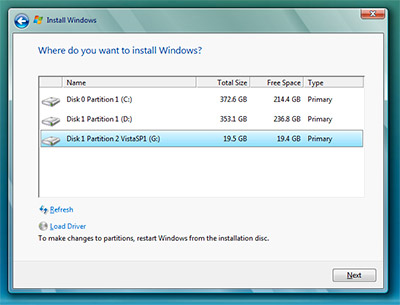 From here, you can either install directly using the slipstreamed ISO which is the most convenient as you'll be installing a fresh version of Windows with SP1 already embedded. Alternatively you can also install Vista RTM and apply the executable patch or Windows Update download that way.
When you're done, packing up is even easier.
Removing your new partition and restoring your volumes
Step 1. Open the "Computer Management" tool again and click to "Disk Management".

Step 2. Right click on your SP1 volume and click "Delete Volume".
Click "Yes" to confirm you want to delete the volume, but confirm this is the right volume cause there's no undo.

Step 3. Right click the volume you want to merge with your now unallocated space, and click "Extend Volume".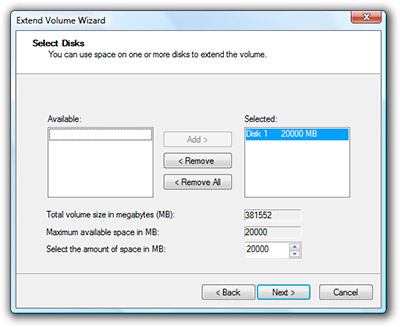 Step 4. Click "Next" in the welcome screen, and then "Next" to confirm the default choices, then "Finish" to complete.

Step 5. Now your volume should be restored to its former glory.
Step 6. Download, install and run VistaBootPRO – a free GUI to edit entries in your bootloader to remove the SP1 entry. Click on "Manage OS Entries" then select "Microsoft Windows Vista SP1" or find the entry with the corresponding boot drive of where you installed SP1 then click the cross in a red circle to delete it.