From silence to the grand opera, finally Internet Explorer will join the league of a handful of next-generation web browsers that passes the Acid2 test.
Whilst remembering Acid2 is not a standards test – in fact it breaks a few standards to test how browsers handles malformed code, passing the test represents the browser will properly support a range of next-generation CSS 2.1 features that opens up a range of creative opportunities for web designers. It doesn't test everything, but these are probably the most useful features.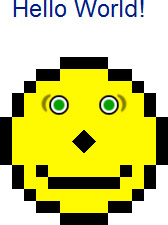 The major CSS capabilities tested includes,
Transparent PNGs — The eyes are encoded as transparent PNGs.
The object element — The eyes of the face are attached to an object element. Being able to use object (which can have alternative content) is one of the oldest requests from web designers.
Absolute, relative and fixed positioning — Being able to position elements accurately is important for advanced page layouts.
Box model — The original Acid test focused on the CSS box model. Acid2 continues in this fine tradition by testing 'height', 'width', 'max-width', 'min-width', 'max-height' and 'min-height'.
CSS tables — There is nothing wrong with table layouts. It is a powerful layout model which makes sense on bigger screens. However, the table markup is troublesome as it ties the content to these screens. Therefore, being able to specify table layouts in CSS is important.
Margins — CSS defines accurate algorithms for how margins around elements should be calculated.
Generated content — The ability to add decorations and annotations to Web pages without modifying the markup has long been requested by authors.
CSS parsing — Acid2 includes a number of illegal CSS statements that should be ignored by a compliant browser.
Paint order — We test that overlapping content is painted in the right order. This is not a feature in itself, but a requirement for other features to work correctly.
Line heights — The Acid2 test checks a few key parts of the CSS inline box model, upon which any standards-compliant Web page depends.
Hovering effects — One of the elements in the face changes color when you hover over it. Which one?
It's one thing for Firefox, Safari and Opera to pass the ACID2 test, but it's another for the default browser of the most widely used consumer operating system to support it too. And not only is it a web browser, the rendering engine is used in thousands of third-party applications to draw interface elements.
Imagine when Internet Explorer 8 is pushed out via Windows Update to every Windows user as a recommended update, then web developers and designers will sleep like a baby knowing their standards-compliant code should work on any browser and any platform without a single hack. Wouldn't that be nice.
In other news today, a decade-old game is also breaking expectations by showing its face. Coincidence?