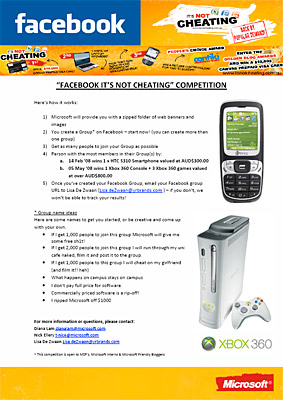 Starting from today, Microsoft Australia is hosting a Facebook competition to promote the "It's not cheating" $75 Office discount for students in Australia.
Basically, they're outsourcing asking a bunch of Microsoft Student Partners, interns and Microsoft bloggers to help them get the word out by setting up groups on Facebook. The person who can draw the most people to their Facebook group at the end of the specified period wins a bunch of prizes.
But by now you must be thinking I'm trying to suck you into this right? Sort of, although I want to turn the idea on its head. Instead of the host (in this case, me) reaping the rewards of what is basically a collective effort, I want to share the prizes with you.
So this is my proposition. By the end of the competition, if this group wins the competition with the most users, I'll randomly pick a person from the group (besides myself of course) and ask Microsoft to send the prize to that person. Alternatively, I could also impersonate that person but I'm not very good with accents. If Microsoft refuses to do so, I'll claim the prize and send it to the 'winner' myself shipping and handling included. They didn't say the winner has to be in Australia, so everyone's invited.
The prizes include a HTC S310 Smartphone (awarded on 14 February 2008) and a XBOX360 bundle with 3 games (awarded on 5 May 2008). They're not Academy Awards Goody Bag standard but free is free right?
If you like the sounds of the idea, add your name to the istartedsomething.com "It's Not Cheating" competition group.
Invite some friends to bump up the numbers a bit, but maybe not all of them to keep the chances on your side. If all else fails, there's still a billion people in China and they're always up for a freebie.