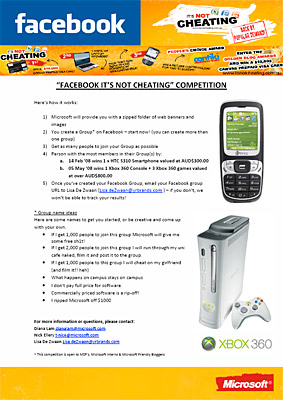 In a couple of hours, the four-month long "It's not cheating" Facebook competition hosted by Microsoft is going to end and it's going to be a close call.
Some of you might remember me promoting the istartedsomething.com group all the back in December where I promised to give away the prizes to whomever joined the Facebook group.
I've kept my promise and has already given away a Smartphone to a lucky member in the first round, but we're a few members short to win the final round with the prize of an XBOX 360 bundle with 3 games. I'm not too sure if GTA IV is one of them, but at least you could score a free console to play it on.
At the time of writing, there's another group who's in the lead with 669 members, compared to 627 members in the istartedsomething group. That group promises to give the XBOX360 away to charity for fund raising which is a notable cause so I won't discredit them, but I think it'll be a shame for everyone to have so far and lose in the last mile.
I know it's always hard to ask people to invite others into a competition which in fact reduces the chance for themselves but some is still better than none. As a matter of fact, one in seven hundred chance of winning an XBOX 360 is still pretty decent for clicking a link.
If you know someone who's not already in the istartedsomething.com "It's not cheating" Facebook group, get them to sign up and one of you could very well be playing on a new XBOX 360 and perhaps GTA IV in a matter of days.
Update: With about an hour to go, the other group is till in the lead with ~80 people.
Update2: It's over. The other group has won.