It is a lesser known feature of the Zune media player to revive small animals using the hybrid headphone defibrillator, which this following beautifully crafted spec commercial dutifully demonstrates. Check it out.
[flv:zunemusiclife.flv 640 360]
In case you were wondering, "spec" is short for speculative and it means this was an unofficial ad created by a third party as part of their personal portfolio to showcase their creative skills. In case this, the director – Stewart Hendler is obviously not short of talent. Human Worldwide who produced the soundtrack also deserves a lot of credit for a mesmerizing composition.
A recent interview on Screen Magazine with Human reveals some details.
Human recently teamed up with director Stewart Hendler, who is with Ubercontent, to produce and score a 30-second spec spot for Zune entitled "Music Is Life." In the spot, a young African-American boy is walking down the street, listening to his Zune music player. As he walks through a less safe part of town, he sees a dead bird lying on the sidewalk. He kneels next to the bird, and gently places his earphones against the bird's heart. Much to his surprise, the bird springs back to life, and flies away. We see the graphic "Music Is Life." Then we see "Zune is Music." The boy quietly continues his walk.

Instead of existing as secondary to the visual content of the ad, the musical score is a surprisingly vital part of the ad. Human composer Morgan Visconti describes the track as one with a "bittersweet, haunting feel. We wanted a track that would be instantly memorable – one that would sound more like a record than a scored piece. We wanted to write something that a potential Zune user would want pre-loaded onto their machine. We used acoustic instruments—piano, guitar, drums and violin. In post, we added reverb over the whole stereo mix to give it a ghostly, ethereal sound, featured during the bird's 'resurrection' sequence."
Behind the scenes what's probably even more exciting is that Stewart produced this with one of the new Red One cameras – an extremely affordable high-definition video camera set to revolutionize the cinematography industry. Here, the result (even at such low resolutions) is nothing short of a visual spectacle.
From what I can also gather by reading a forum post by Stewart about the production, he produced this in one day with only 7 people. I presume the bird doesn't count. Here's one of the higher-quality stills he posted for a better look.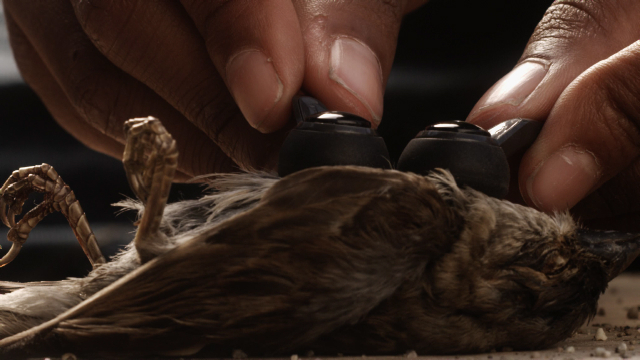 I really think the Zune could use some more emotional advertising like the one above instead of the abstract and psychedelic acid trips it currently portrays.
Update: Found some information posted by Stewart where he talks about how they shot the scene with the dead bird.
We found a bird that was already trained to lie on its back (only in LA, right?) and it was handled on set by two wranglers. There was a piece of mono-filament line attached to it's leg so it couldn't fly away (which we'll paint out eventually).

We also had a matching, taxidermied bird with an air bladder in it's stomach to simulate the first breath.