I would have never thought to find a beautiful user experience in an enterprise application, but recently Frog Design helped ship an application called "Lawson Smart Client" powered by Windows Presentation Foundation (WPF) that I think changes the game for software user experiences both in and out of the enterprise. Obviously Robert Scoble wasn't staring at this when he asked "Why enterprise software isn't sexy".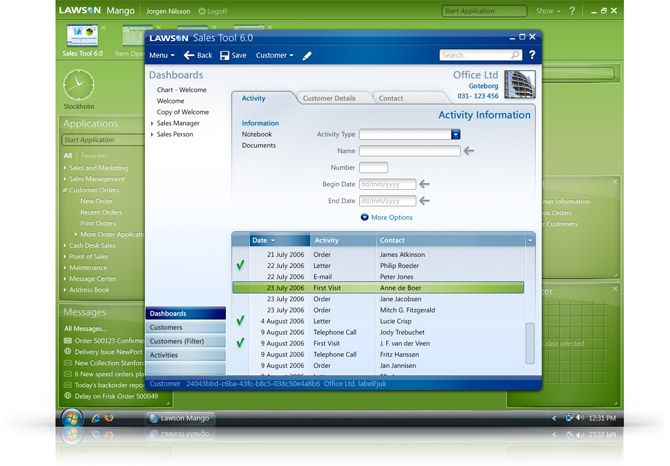 This has to be one the most polished, professional and immersive implementations of Windows Presentation Foundation (WPF) I've seen so far. It almost looks like an alternative operating system until you notice the Windows taskbar. Every control from tabs to drop downs, text fields to lists is subtly refreshing from the Windows default, yet familiar enough to use without a two-week training program.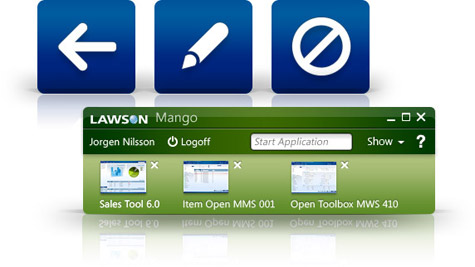 It's nice to see for a change a WPF application that doesn't try to break free from traditional UI paradigms when it doesn't need to. The spinning 3D carousels are great, but it's comforting to know WPF can still mean serious business.
Style-wise, this application is a pleasant step away from six shades of gray – the cliche of enterprise software, at the same time it also doesn't overstep into the world of Barbie Fairytopia Rainbow Adventure. As icing on the cake, this application also allows users to customize the color palette of their workspace so just because the company CEO likes pink doesn't mean every employee has to suffer.
One can only imagine what a nightmare this would have been to realize with traditional Windows graphics platforms like GDI. And that's what WPF is all about actually. It's not about what it can do more, but what it can do with less effort and less time. The creation and implementation of this design took only 4 months with a senior designer, a visual designer and a 'technologist'.
"Enterprise applications are becoming increasingly more interesting from a user experience perspective." says Cees Van Dok from Frog Design in Germany who worked on this project. Not surprisingly, Cees is also a former Microsoft designer who worked on Windows "Longhorn" and Vista where he has had plenty of experience working with WPF.
"Differentiation and better 'ease-of-use' will be key drivers in the competitive environment moving forward. The user experience of enterprise software is often 'sub-optimal' with many features and options on every screen and often lacking common UI best practices (like easy data entry, global search, flexible workflow support, silly inconsistencies between similar applications). The learning curve is often very steep and a lot of UI mechanism are often not very intuitive."
I've always turned somewhat of a blind eye towards enterprise software for the very fact it is so depressing – and I feel the same for the people who have to use these tools day in day out – but now seeing what is possible I'm even a little jealous. Big props to Frog for reinventing the enterprise as well as relentlessly supporting for Windows Presentation Foundation. I hear there's more WPF-applications in the pipeline. Can't wait.