I avoid writing about or interacting with enterprise software because I thought they were boring and looked like legacy document systems a decade behind.
Today at Microsoft TechEd Australia 2013, the press was invited to have a hands-on demo of the "Orion" release of Microsoft Dynamics CRM 2013 featuring a whole new "Metro"/Modern user interface. While enterprise software is still boring, "Orion" has made me think twice about what enterprise software in the modern day actually looks like.
Over five years ago I wrote about an enterprise desktop app designed by Frog Design utilising the then-new Windows Vista WPF platform which became a hallmark of "sexy" business software for the time. Now five years later, Microsoft has also realised "a salesperson wakes up in the morning and doesn't look forward in using the CRM system" because it doesn't look as good as the consumer apps and services people love to use every day.
With the "Orion" release of Microsoft Dynamics CRM 2013, Microsoft is Metro-fying/Modern-izing the enterprise software.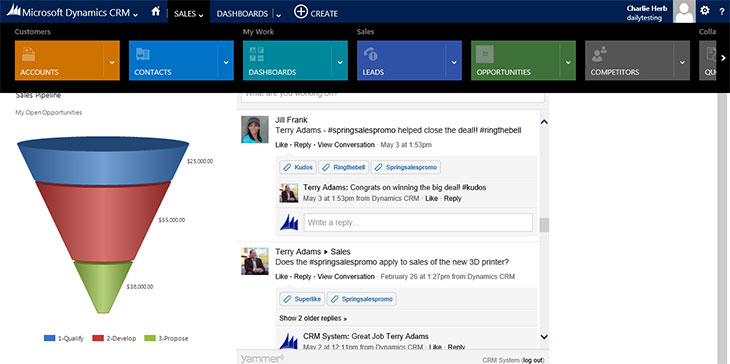 The main web browser experience now looks somewhat like a cross between Outlook.com and Outlook 2013 on the desktop. There's a lot of white-space and big faux-tiles in header dropdowns for section navigation and context switching. There's even the dreaded uppercase text for headings (from Visual Studio). This is a big change compared to the faux-Ribbon UI theme of the 2012 release.
The most interesting part of the web experience is that not only that it's fully compatible with all of the A-grade browsers including Internet Explorer, Chrome, Firefox and Safari, but it is also touch-enabled for not only Internet Explorer but other browsers including Firefox (which today's demo was solely based on).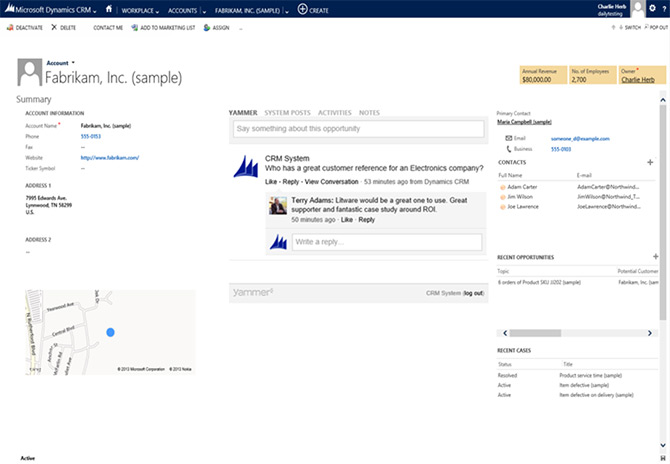 Although I do find usability issues with the extreme use of white-space (and the build we played with was quite buggy), the design is a bold step up from applications and services that used to look like "old office" applications to something that even slightly resembles a modern social network, especially if you consider the Yammer integration is front and center.
The Dynamics companion Windows 8, iPhone and Android apps are also new or being refreshed with a more Metro-fied look and feel, to the extent their host platform allows.
The native Windows Store app, although basic in functionality, allows for some business processes to be completely entirely in a Modern app environment that is much more practical for tablets and touch-centric operations for sales and marketers on the go. However, the build we played with was again old and very buggy.
The iPhone app was not shown but the Android app had a Metro-ish look and feel that looked more like a basic website than the more polished Office for Android app.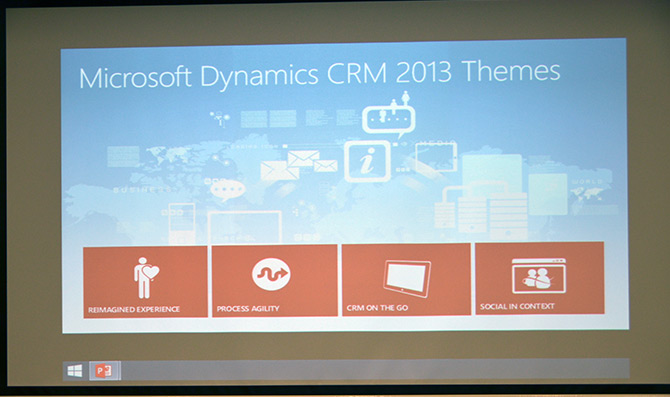 Granted I don't think enterprise software is ever going to look as "sexy" as consumer services such as Facebook or Twitter due to their balance of function over form, I think it's commendable to see Microsoft take a pretty big gamble by changing so much in an industry not known for enthusiastic adoption of change.
"Orion" might be a bit rough around the UI edges when it's slated to ship in October if the builds we played with are any indication, but it's clear Metro/Modern is not only a consumer user experience trend for Microsoft but will make its way deep into the enterprise as well.