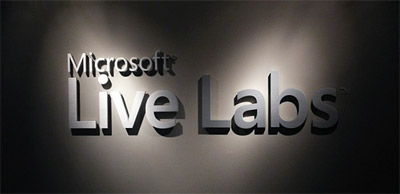 Photo credit Steve Clayton
If you think of all the innovative, cool and realistic technologies Microsoft has shown to the public in the past year or two, Photosynth would easily top that list. That's pretty amazing for a research group that's only been existent in Microsoft for just two years. Anyone who follows this blog knows just how excited I am about Photosynth and Seadragon.
I got in touch with Don Lindsay, director for design at Microsoft Live Labs to find out a little about the history and what is going on behind the scenes. Don also shares a little about his interesting past and contributions to the next version of Windows.
Long: What is Microsoft Live Labs and when was it formed? How does it compare to Microsoft Research?
Don: Microsoft Live Labs is an applied research organization focused on the incubation of innovative, internet-centric technologies to accelerate the evolution of Microsoft's internet products and services. We collaborate with other groups at Microsoft and with external industry and academic research labs to fulfill our mission. The creation of Live Labs was announced in January, 2006.
Whereas Microsoft Research primarily focuses on pure or experimental research, releasing technology previews to the community for feedback is not necessarily an end-goal of their efforts. Essentially Live Labs acts as the middle ground between Microsoft product groups and Microsoft Research.
Live Labs does collaborate with Microsoft Research on a number of levels, and we have incorporated their research into Live Labs technology previews such as Photosynth.
What do you do there? What does an 'average' day look like?
I direct the User Experience team for Live Labs and we're responsible for defining the user experience and brand strategy for all Live Labs projects. Building an all-star design team from scratch continues to consume too much of each week and I'm always on the lookout for people up to the challenge.
To date, which Live Labs products have you worked on?
To date, the team been responsible for the user experience of all public Customer Technical Previews (CTPs), including; Photosynth,
Deepfish
and
Listas
.
What does it mean to build user experience for 'never-done-before' technologies like Photosynth that's accessible to everyone?
New technologies can be intimidating, so the challenge with something like Photosynth is figuring out how to best package and deliver it such that the technology effectively 'disappears' and users can simply dive in, be rewarded and not have to concern themselves with what is new or different. If the capabilities the technology enables are conspicuous, are valuable to the user and we don't consciously put roadblocks in their way, then we've been successful.
Where do the Live Labs ideas come from? Is there a dark man behind the curtain who decides what gets developed? Or do all the ideas come from the magic 8-ball?
We largely conceive our own ideas, but unique to Live Labs is the collaboration and interchange with other product and research groups both internal to Microsoft and external industry and academic labs.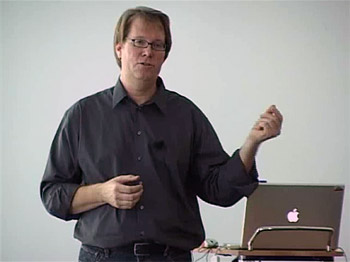 Photo: Don Lindsay speaking at Expression Around the Clock in Moscow. Obviously still showing some Apple pride.
I presume not every idea is a good idea.
We are constantly developing and evolving new concepts, technologies and full-fledged incubations. Evolution sometimes means rethinking how to best package or express a concept or underlying technology. Some evolutionary paths are dead ends.
On the contrary, how do you know when a project is 'good enough' for public consumption? Where do you draw the fine line between internal beta and external beta?
Consistent with any development process, there are feature and quality criteria we establish for each release milestone and while we may label our external releases 'Previews', we go to great lengths to ensure a positive experience for the significant majority of our audience given the test coverage we can support.
How much focus is put into commercializing these ideas? In particular, what is the future of Photosynth?
I cannot share any specific plans, but there is clearly an opportunity for a wide range of consumer and business applications that could benefit from Photosynth technology.
For example, in addition to the recent collaborations with the NASA shuttle launch and BBC TV series, we also announced in February 07 that Photosynth technology continues to evolve and now supports the Firefox browser in addition to Internet Explorer.
What will be the focus for Live Labs in the near future? Is Listas a sign of things to come – web applications?
Advancing the internet is our mission and we continue to work on several ground-breaking technologies and product concepts that might employ a variety of delivery vehicles. Expect to see more CTPs from the Live Labs in the year ahead.
I've heard you worked at Apple before coming to Microsoft. What did you do there?
Prior to joining Microsoft in 2003, I spent ten years at Apple where I directed the User Experience team responsible for the first four releases of Mac OS X and was responsible for pulling together the design for the original prototype that became 'Aqua', the user experience for Mac OS X. Apple developers might recall my Aqua introduction at the Developers Conference in 2000. I first joined Apple to work on Speech user interfaces and over the course of the ten years I contributed to every release of Mac OS from 8.0 through 10.3.
Prior to Apple, I managed a design team for the Bell-Northern Research Corporate Design Group where I first worked on touch-enabled graphical displays for phones in 1985 and designed the interface for a 'cellular mobile phone with touch display' in… 1992.
What did you do at Microsoft before working at Live Labs?
I joined Microsoft to focus on defining the future user experience of Windows, but I ended up spending a year assisting the MSX design team wrap up Vista. My contributions were primarily those features enabled by the Desktop Window Manager, including Alt-tab, Flip3D, Glass and Colorization, Window Animations and the AERO graphics tiering strategy (how the AERO UX downgrades gracefully on less-capable hardware or by SKU), but I also pitched in on a variety of other features.
After wrapping up work on Vista, and prior to joining Live Labs, I spent six months working with a willing developer to explore a number of new window management solutions that provided guidance for Windows 7.