Update: Amazon has since leaked a slightly different version of the Plus! pack for Windows Vista description. They estimate March 31, 2008.
This filled-to-bursting treasure chest of classic and new favorites is certain to delight, dazzle, and entertain your entire family for hours on end. The Bicycle Card Collection contains 12 classic cards games, from American traditions like Hearts, Crazy 8's and Gin Rummy, to European favorites Schafkopf and Skat. The Puzzle Collection regroups 10 different games that were designed by Alexei Pajitnov the famous creator of Tetris -promising hours & hours of fun with those clever games that'll strain your brain! GamePack even includes a trial version only of Pandora's Box, an incredible reflection game from the devilish brain of Alexei Pajitnov and nominated as the Best Puzzle Game in 1999 at E3. Microsoft Plus GamePack is a must-have game collection for anyone who loves card games and puzzles!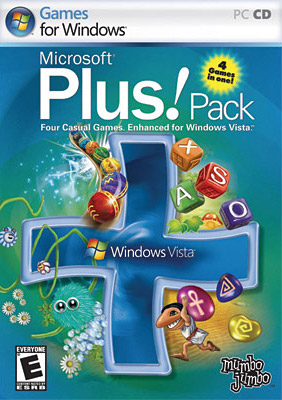 The first edition of Microsoft Plus! was codenamed frosting, like frosting on a cake. (Insert Portal cake joke). When Microsoft introduced Ultimate Extras for Windows Vista, everyone naturally assumed this was the replacement for Plus! delivered digitally instead of a retail product, but that might turn out to be false.
The eagle-eye enthusiasts at WinBeta (and also credit to the Neowin.net forums) have spotted an interesting product listed in Future Shop's, a leading technology retailer in Canada, catalog. "Microsoft Windows Vista Plus Pack (PC)".
Whilst the name could have been misleading, the packaging boxart is hard to disprove. Microsoft's reviving the Plus! brand for Windows Vista, but limited only to games.
For your information, don't look too much into the product description which is copy and pasted from the generic Windows Vista Home Premium marketing copy, noting the differences between Home Basic and Premium.
Whereas previous Plus! packs included a range of screensavers, themes, games and applications, this is only a set of four casual games developed Mumbo Jumbo as indicated on the boxart. One of the games I can easily identify is "Luxor" in the top left. The bottom right one might be "Ra". The bottom left might be an adventure game, and top right a word/puzzle game.
These games, separately, have been available for retail for quite some time. One user who claims to have played two of these at the Windows Vista launch event in January 2007, unaware they were part of this pack, said they were "pretty cool" casual games.
According to Future Shop, these will retail on Friday, February 15, 2008 for $39.99. Cross our fingers, maybe these will even be Ultimate Extras.
Update: Rafael has contacted Mumbo Jumbo for an official comment, and he has their reply on his blog. Funny they should mention "infancy stage", so I guess the product boxart just generated by itself huh.