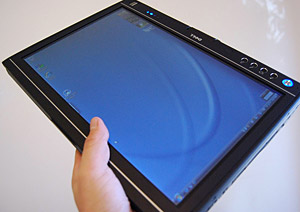 Dell's Tablet PC is finally here. After years of wild rumoring and enthusiastic anticipation, the Latitude XT is Dell's first bet in the ever-bleak Tablet PC industry. Whilst Dell didn't deliver what everyone have hoped for – the cheapest tablet PC – they did however design one featured packed notebook with numerous innovative ideas and engineering worthy of at least some credit.
I'm lucky enough to be one of the first to get their dirty hands on this very popular machine (amongst journalists at least). Whilst I would have preferred to review this after university started, but it had to be an on-the-minute decision or I might have not had the chance again for a very long time. Sorry Mossberg, you'll have to wait until I'm done.
This particular model has in it:
CPU: Intel Core 2 Duo Ultra Low Voltage U7600 (1.2GHz)
Memory: 2GB (2x1GB) DDR2-533Mhz
Hard disk: 32GB SanDisk Solid State Drive UATA 5000
Graphics: ATI Radeon X1250 UMA Graphics (integrated)
Display: 12.1-inch WXGA LED back-lit display (1280×800)
Optical: D-Bay plus 24X CD-RW/DVD
Input: N-Trig Native Dual Mode (Electrostatic pen & capacitative multi-touch)
Wireless: Dell Wireless 1505 Draft 802.11n
WWAN: Dell Wireless 5520 Mobile Broadband (3G HSDPA)
Ethernet: Broadcom NetXtreme 57xx 10/100/1000 Gigabit Ethernet
Bluetooth: Dell Wireless 360 Bluetooth Module
Audio: SigmaTel HD Audio
Battery: Primary 6-cell 42W/Hr Li-ion battery. Secondary 45W/Hr Li-ion slice
Connectors: 3xUSB, Firewire IEEE01394, SD card slot, ExpressCard, VGA, RJ-45 ethernet, microphone, headphone
Speakers: Integrated mono speaker
Accessories: Integrated microphone array, UPEK fingerprint reader, leather portfolio carrying case
On Dell's site, a similarly customized model would cost about US$3500. The SSD hard disk alone is a $600 extra. When asked why such a high introduction price, Dell insisted Latitude is a business-oriented range of notebooks and so these prices reflect the quality of business-grade computers including support, security and customer care. Which means until Dell moves the tablet out of the Latitude range, don't expect the prices to drop to any 'consumer' levels.
There's nothing fancy to the packaging. It's a set of smaller yellow boxes in bigger yellow boxes. As desirable as Apple's computer packaging may be, cardboard all looks the same when you tear it open. This review unit is obviously less packaged than most retail products, so your cardboard mileage may vary.
The first thing you'll find is a power adapter. An extra small power adapter for that matter. Very lightweight and slim, perfect to take around. Although for some strange reason, the standard cord is only 3-foot long. That's barely long enough from the power socket to a stool let alone to the far corners of a desk. Dell sells an optional 6-foot adapter, which I'd recommend everyone to get.
To make up for less cords, Dell did include a few neat power accessories including a vehicle 12V plug, a separate cord for charging the slice battery separately and some strange cord I can't identify but plugs somewhere I'm sure.
I'm glad Dell has opted to also include disk media (including OS) as well as a hard copy of the manual instead of only hard-disk recovery partitions.
As you would expect the standard Dell leather carrying case fits the tablet inch-for-inch. The insides are covered in a smooth rubbery material which grips on the sides pretty well, adds a little effort to taking it out though. The flap is sealed using magnets which adds a little tension to opening. There's not a lot of padding so I'd personally opt for a laptop bag instead, especially if you're the type that likes to throw it down on hard surfaces.
The finish on this notebook is really something. Trust me, Dell's official photos and even my photos don't do the metallic coating justice. I'm sure there's a technical word for it, but it has the wood-like texture found on many high-end electronic equipments. However unlike most, this does not grind your fingernails when you cut through it, if you know what I mean.
Starting from the left of the display panel, you have a very stylish power button, Windows lock, rotate screen, Dell QuickSet shortcut and email launcher.
On the right hand side of the display you have four indicators – hard-drive, battery, Wi-Fi and Bluetooth – as well as the fingerprint reader. The large circle on the left is where the ambient light sensor would have gone if you opt for the DLV-backlit display panel instead of LCD which is specified to be 4 times brighter, but also heavier.
For some reason most business-users still prefer the pointing stick (rubber mouse) to the trackpad, so Dell's included that too. Keyboard wise this is a standard low-tactile Dell keyboard with full-size keys including the special keys like Caps Lock, Return and arrows.
Because of the pointing stick, there's two sets of mouse-buttons which I found rather strange. However to accommodate, the trackpad is even smaller which I would have preferred to be a little wider like the Apple ones. After all this is a 16:10 widescreen display.
After having suffered so much with the Toshiba slice battery, Dell's slice battery are a refreshing reminder how a little engineering can go a far way. This additional battery – which almost doubles the battery life – is so easy to attach and dismount by simply snapping it together and lifting a latch respectively. Toshiba's involved some rocket science alignments.
Almost all the Dell photos for this tablet has the slice battery attached, adding about 1/4th of the thickness, so I kept it on too. But bear that in mind it's considerably lighter and thinner without.
From left, center, right, to back. (Left) Pen slot, mobile antenna, Firewire, USB, fan, speakers. (Front) Nothing. Just how I like it. The screen is held using a magnetic latch which snaps together with fairly strong force. (Right) Wi-Fi switch, Wi-Fi catcher (which tells you if there's Wi-Fi signals nearby), USB, SD slot, ExpressCard, micrphone, headphone. (Back) Power, VGA, network, powered USB.
When you tablet mode, you can sometimes miss having a few handy keyboard shortcuts. In this case, Dell's engineers has thoughtfully placed some shortcut buttons (back button, customizable and a scroll wheel) which you can use when the display is in tablet mode.
Something to note, unlike some of the pen-only tablets, this screen does not lay on the same height as the display panel which means your fingers and stylus will be bound inside a physical border. For pen-use this is actually useful because I often run over the border, but for touch-use this makes clicking objects on the side (taskbar, close button) a little harder than normal.
The screen hinge is unidirectional, so you can only spin clockwise from notebook to tablet mode. I found it a little weak in notebook mode so if your screen is not leaning against a solid surface, if you try to use the stylus or touch on the screen, it will rattle.
Speaking about the screen, it is not a glossy screen so it's great for indoors use. Here is a comparison between the minimum and maximum screen brightness. Note, this photo is taken at a steep angle so it's also a test of the viewing angles. On full brightness, the display is on-par with most desktop LCD displays. Because it is LED backlit, it also benefits from the instant-on experience, that is it doesn't need to warm up like traditional LCDs.
Having said that, it's still not enough for outdoors use. For that, you need to upgrade to the DLV backlit panel.
To me, pounds and kilograms don't mean hell of a lot. I can definitely hold this tablet comfortably in one arm tucked into my chest. However I would not want to hold this out on one arm for extended periods of time. It feels solid, but it's also no MacBook Air. The extra grip behind the screen hinge definietely helps. I should also add this is a fairly silent machine thanks for the low-voltage processor, but under load there is a strong audible buzz that would definitely be heard across a silent room. There is however a design flaw with the slice battery which blocks the air intake vent at the bottom. I presume without it, cooling would be much more efficient.
Now here's the fun part. The pen is slotted in the top left corner of the tablet and is retracted and stored using the double-click compartment. The compartment also has a LED light to indicate the pen has been removed. And as a feature, if you shutdown, hibernate or standby without the pen in the slot, it will warn you incase you forgot to take your pen. Very smart.
The pen is not a Wacom pen, so it's slightly different to most Tablet PCs. It's still pressure sensitive, supports hovering and doesn't require batteries. However the eraser functionality is activated via the small round button instead of the top side of the pen. The thickness is comparable to most ballpoint pens so it's very comfortable to hold.
The bigger deal is capacitative touch, the same touch technology used on the iPhone.
Capacitative touch is a big deal because it enables multi-touch, that is detecting multiple touchpoints simultaneously on the display. These Dell tablets are multi-touch capable, but will require driver and software updates to be released later in the year (estimate August). The technology's developer, N-Trig, claims it will be supported on most native Windows applications without third-party modification. Should be very exciting.
Look, I'm touch typing. Get it? I'm so funny. Anyway, because this is very much a hardware device, I'll only touch briefly on the software side.
Users will have a choice between Windows XP Tablet PC Edition or Windows Vista Business for the default operating system. I would encourage everyone to opt for Vista because there's been so many advances in tablet and touch functionality in Vista you wouldn't nearly get the same experience on XP. Some of the advances includes handwriting recognition, handwriting personalization and touch support.
The Windows Vista WinSAT rating gives this machine a 3.5 which might seem awefully low, but that's only because of the integrated ATI graphics adapter pulling down the overall mark. Otherwise it would have easily reached a 4.1 which is admirable for a Tablet PC form factor. An ultra-low-voltage processor really helps battery life and reducing heat emissions whilst not comprising on performance, very much a recommended upgrade.
Obviously I've been spoiled by AMD's desktop quad-core Phenom, but the Core 2 Duo processor packs a pretty big punch for a tablet PC. You're not going to have much luck doing HD video editing, but it'll swift through business applications or viewing HD video like a hot knife in butter.
Dell has also shipped a few custom Windows Mobility Center tiles for luck, but they really don't do anything besides open up the Dell configuration applications.
To their credit, their QuickSet application which has almost become a Mobility Center clone is much more useful loaded with device-specific configurations like automatically turning on the computer if the stylus is removed.
Notably this model has the $600 solid-state disk upgrade so I was eager to find out exactly what the fuss is about. Of course I don't expect anyone to purchase this upgrade so this is purely experimental. Dell claims up to a 23% performance boost, which I think might be considered realistic. Boot is certainly faster, but still far from instant. As HDTach shows, the SSD is able to sustain its average 60Mb/sec read speed throughout which is something platter-disk drives simply cannot come close to achieving. The issue of course is limited write cycles with flash memory, but I wasn't going to test that.
To top it off, I have a short 60-second video clip demoing the touch functionality. Sorry for the quality as it was recorded on a digital still camera.
[flv:http://istartedsomething.com/uploads/dell_latitude_xt_touch.flv 500 376]
Update: Added a short clip featuring the stylus.
[flv:http://istartedsomething.com/uploads/dell_latitude_xt_pen.flv 500 376]
I didn't specifically test battery life, but Windows Vista is reporting about 5 hours usage with the primary 6-cell and secondary slice battery attached. I've always believed Vista's battery estimates to be quite conservative, so I trust this is an accurate representation how it might fare in the real world. Five hours is actually pretty amazing for a lightweight tablet, so I think the ultra-low-voltage processor needs to be thanked again.
In conclusion, this is a very slick and feature-packed Tablet PC and a notable first entry into the market from Dell. This is not a "me-too-tablet". They've certainly put a lot of thought into the design and engineering of this device and it's certainly a joy to use. However it all comes down to price, which ultimately decides its value and who can afford it. Sadly when you put the features and price side by side, it's hard to justify subtle innovation for extremely high premiums. A lot of people who would have otherwise been all over this product – students like myself – can barely touch the most standard model. If you have money lying around, this is a top-tier Tablet you won't regret.
Update: Added synthetic benchmark result from wPrime, a multi-threaded benchmarking tool to test CPU performance. It took 69.965 seconds to complete the 32M speed test, which is 2 seconds faster than another benchmark with the same CPU. This is somewhat comparable to the Core 2 Duo T5470 1.6Ghz CPU but at the cost of more than 3 times the energy usage.