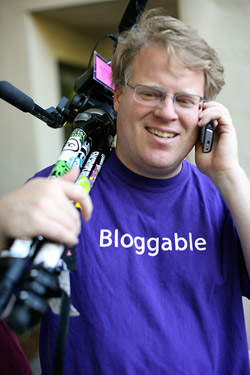 Photo credit
Scott Beale / Laughing Squid
It's official. The number of tears from Robert Scoble is the new benchmark for software innovation.
Somewhere in Microsoft's campus, Robert Scoble saw something today that he describes as "software that really changes my world". He puts the technology in the ranks of the Apple II, Apple's Hypercard, Excel, Pagemaker, Photoshop, Netscape, ICQ, Netmeeting and Skype.
Apparently us, normal people, will have to wait until February 27 to find out what it is. That leaves 12 days of hype and anticipation, which is also exactly what Scoble wanted.
The rumor-mill has already begun spinning with the few hints we have.
The people who demonstrated the technology to Scoble are Curtis Wong and Jonathan Fay. These guys work in the Next Media Group of Microsoft Research who's focus is media and visualizations.
Scoble points out "they've been traveling all over the world working with researchers from other institutions and getting data for their new thing", which suggests there is some sort of data cache already in place that was beyond what was available to just Microsoft.
Lastly, "you'll see techniques that lots of startups are using and, even, that the Google Map team is using. This isn't stuff that was possible in 1995 so it requires 2008-style Web services and data centers."
The most obvious answer is of course Photosynth, the interactive 3D browser for large photo collections of a particular place. For that, Peter McCaffrey has gathered some evidence which certainly draws enough connections between what Scoble has described with what can only be the full release of Photosynth to the general public.
But I'm not too sure if that's it. Certainly Scoble has seen Photosynth before and probably shared his excitement about it at the time, so I find it hard to believe he can be so touched by it again. Update 3: Scoble has confirmed it is not Photosynth.
Then I found this from "Bill" in my inbox from yesterday. www.opensourcehero.com. I remember looking at it yesterday and didn't pay much attention to it because it was just a teaser. But then I looked at it again today, and I shivered.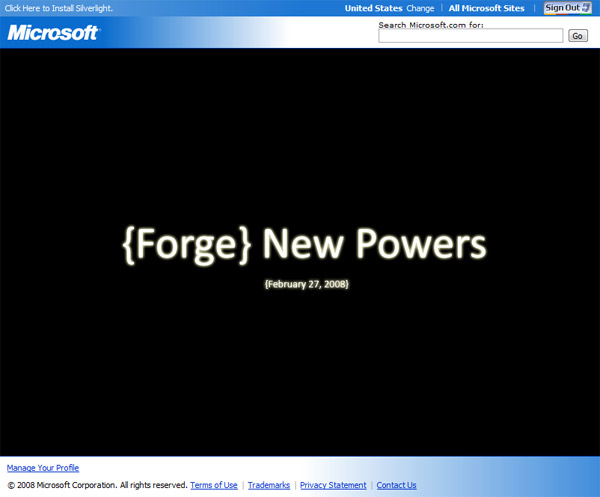 As far as I know, there's no apparent connection between this and what Robert describes, besides the date.
Update: It looks like I might be wrong. Open Source Hero is probably related to the "Heroes Happen Here" launch for Windows Server 2008, Visual Studio 2008 and SQL Server 2008 which is incidentally also happening on February 27.
Update 2: Apparently Open Source Hero is entirely unrelated to what Scoble is talking about.
Update 4: Scoble aside, what's Microsoft's announcing for open source on February 27?