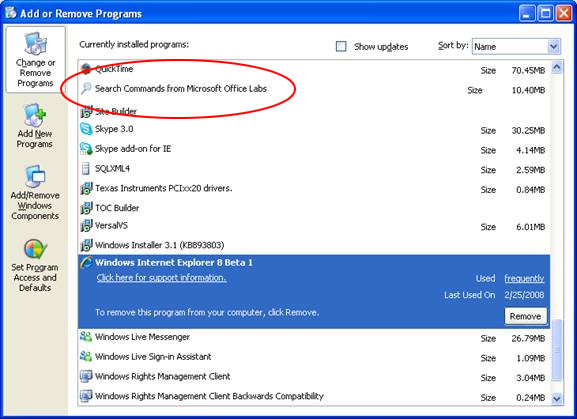 Everybody's favorite Microsoft internal-use-only-no-you-can't-have Office 2007 powertoy, "Search Commands" (codename "Scout"), made an unexpected appearance on the IEBlog today hiding in a list of installed applications.
Jane Maliouta, program manager for IE8 deployment, was outlining the process to uninstall IE8 when she posted a screenshot of her "Add or remove programs" dialog presumably taken from her work computer. One of the applications installed was "Search Commands from Microsoft Office Labs".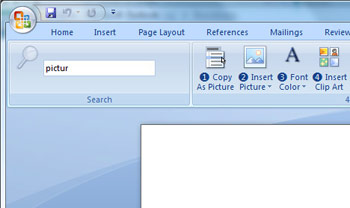 For those who are not familiar with Search Commands, it is an add-in for Office 2007 which adds the ability to quickly find and use Office commands straight from the Ribbon in a find-as-you-type process.
For example, you could type "pictur" and it will return a list of the 9 most relevant commands in Word that contain the word "pictur" such as "Copy picture" or "Insert picture from file". From there, each command is numbered from 1 to 9 for quick access via the keyboard.
As you would imagine, this functionality would be very popular with power users and even help bridge the gap between traditional Office users and the new Ribbon interface.
Currently it is only available to Microsoft employees because it was developed not by the Office product team, instead, a research and incubation team. When asked about if and when it would become public, the Office VP responded with "the Ribbon user interface is intuitive enough the way it is, and that adding another search tool on top of it would be superfluous and potentially confusing". Apparently the overwhelmingly positive response internally since 2006 begs to differ.
Speaking at the MIX08 conference last week, Jensen Harris of the Office design team also made a subtle reference to Search Commands when answering an audience question and said to keep an eye out for it on Microsoft.com "soon".