Microsoft Office Labs, probably best known for their concept video of the future of personal health which was shown at MIX08 (video), have just launched their public website today at www.officelabs.com. Similarly to Microsoft's other product-development group Live Labs, Office Labs aims to test ideas for Office by building prototypes and collect usage data from the people who risk testing them. It's win-win for everyone.

One of the tools they are making available today is the long-awaited Search Commands, codename "Scout" . For those who remember, the same tool made a cameo on the IEBlog about a month ago.
The Office add-in as of today supports Word, Excel and Powerpoint and like what was shown in a concept a year ago allows users to search for commands in the Office applications directly from the Ribbon. They can then quickly those commands by a numbered keyboard shortcut, giving quick access to commands or tools if you don't know where they are in the Ribbon bar.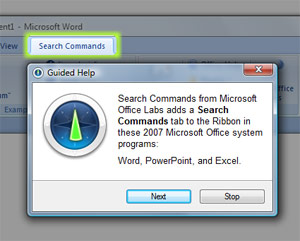 What's interesting is that for this release they've also added "Guided Help" functionality. Guided Help was a feature in the beta releases of Windows Vista (but mysteriously taken out of the final release and still missing), it allows the system to "show you" how to troubleshoot tasks by highlighting what you need to click. Here, it offers a quick tutorial on how to use Search Commands.
I've only played it for a few minutes, but it seems to do exactly what it says it does and the results show up pretty instantly. However the only feature that's missing is a As David kindly noted in the comments below, "Win+Y" is the quick-access shortcut key that jumps focus to the search field. Very cool.
Go download Search Commands and try it for yourself.