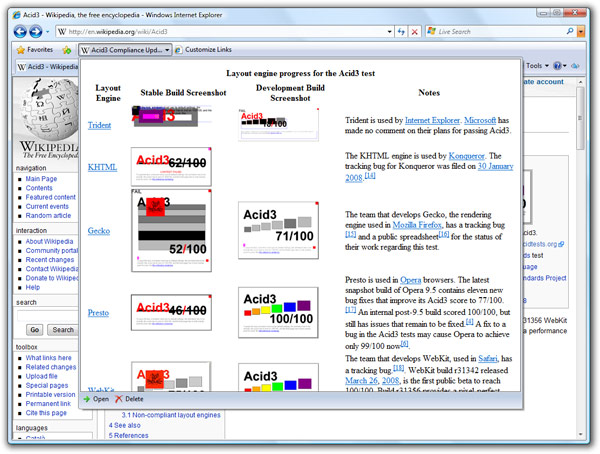 Trust the open-source lovin' contributors at Wikipedia to be early adopters of Microsoft web technologies. Beginning just a couple of days ago, Wikipedia user "Soum Yasch" began building Wiki templates to support the new content-subscription feature in Internet Explorer 8 called WebSlices which allow you to save and retrieve snippets of information from web pages without loading the whole page.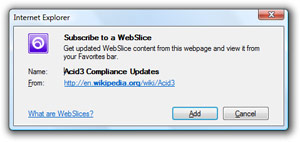 So far the template is only implemented on the "Acid3" Wiki. On this page it allows users to save a WebSlice of a table which records the web standards test result of different layout engines. As a result, you can then just bring up this table by clicking on the toolbar. As a built-in feature of WebSlices, if the content is ever updated, it will also be highlighted in the toolbar.
Obviously the implementation is a little rough at the moment – the toolbar pop-out is not styled at all and cuts off at the bottom, but it's a great start to build more adoption for WebSlices and what better place to start than the world's most popular encyclopedia.
Has anyone seen any implementations WebSlices beyond those originally demoed by eBay, Facebook and MSN?
Speking of which if you're a Firefox user, you can get in on some of the WebSlices action too with the extension "Webchunks" which emulates the same function. "Anything you can do, I can do better."