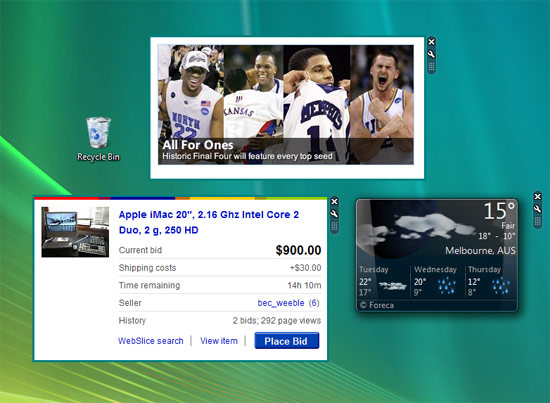 WebSlices, meet desktop. Desktop, meet the web. Sean Lyndersay, ironically a former Microsoft IE developer (now Live Search), has developed a rather ingenuous solution to display WebSlices on the desktop using a very simple Sidebar gadget he calls the "WebSlice Viewer Gadget". It's still in alpha so it's all Microsoft's fault if it breaks.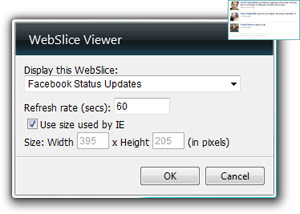 In a nutshell, because WebSlices are actually stored as feeds inside the native Windows RSS platform, desktop applications including Sidebar gadgets can very simply fetch and display the data without much hassle. In this case, it couldn't be any simpler to pick the WebSlice you want to display in the gadget, and have it appear in a simple frame on the desktop.
I think many people underestimated the potential of WebSlices by implying it was redundant in IE8 because you could just as easily load the full page which is true inside a browser, I think this gadget outside of the browser is a much better example of demonstrating where "subscribing" to a portion of content on the web is extremely convenient and powerful.
Also as opposed to RSS where you're subscribing to new content, WebSlices focuses on updates to existing content, for example an eBay auction which would never have worked in RSS.
I only wish the Internet Explorer team had integrated the gadget in the first place, much like what OSX 10.5 Leopard did with "Web Clips". Credit where credit is due – Apple's implementation is actually far superior because users themselves define the portion of the webpage they want to clip, not rely on the discretion of the web developer. That way they can subscribe to anything and everything. Someone outside of eBay and Facebook will implement WebSlices, right?