With all the advancements in optical and laser technologies, the mice works great on most practical surfaces but as soon as you lift it off the surface it degrades to a very bulky clicking device. If you've ever leaned right back on your seat or lounged on a very soft couch and tried to use a mouse to surf the web, you'd probably be familiar with the strain on your arms or back. It's not easy or comfortable.
To help solve this problem, Craig Ranta, Steven Bathiche and Monique Chatterjee from Microsoft came up with a very cool "wearable pointing device" that looks somewhat like a hybrid between the gloves in Minority Report and the Nintendo Wiimote. Their patent filed in October 2006 was just recently published.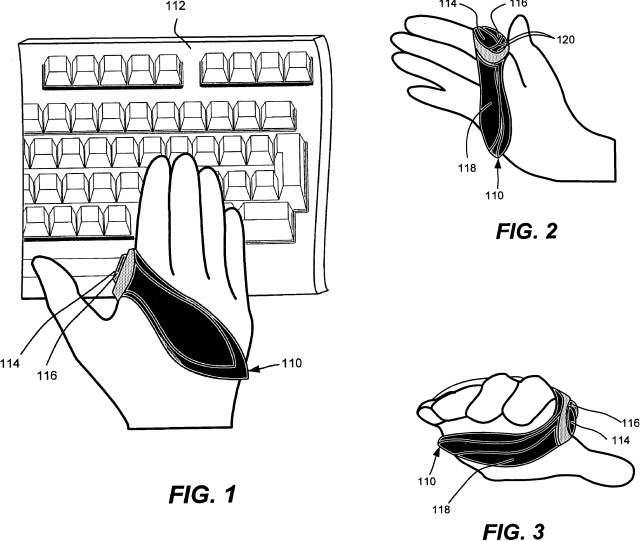 Besides looking pretty cool, the design actually takes into account a lot of practicality which leads me to believe this is something more than a fancy research demo. For example by wearing the device it does not prevent you from doing other tasks such as typing on a keyboard. The cursor movements are activated by a "switch" (110) that can be activated by closing your hands, grasping the device like a joystick, and then turning the yaw and pitch to control the X and Y positions respectively. There are also left (114) and right click (116) buttons which can be pressed by the thumb.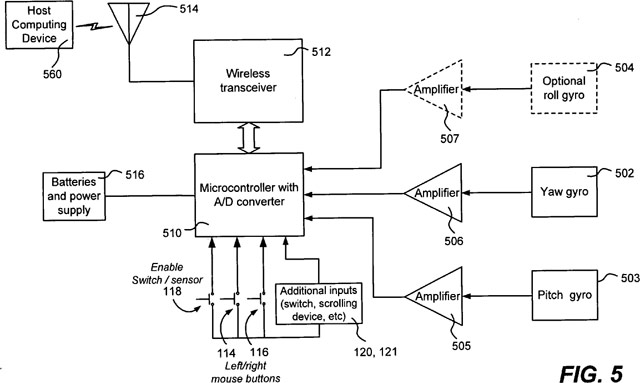 The patent actually goes into a lot of technicalities even as far as to name the specific gyroscope modules that can be used, Analog Devices' ADXRS150 for those of you playing at home, which leads me to guess they might have a working prototype somewhere.
Whilst this is certainly not the first wearable mouse invented, this particular implementation seems practical enough for mainstream users and not to mention Microsoft Hardware has a pretty solid history of building nice peripherals. I wonder if they have one available for review.