A recently produced Microsoft Research promotional video (via Bernard Oh) decorated with various snippets of new and upcoming research projects caught my eye when images of a Windows Vista-like search interface flashed for split seconds. Curious like a cat, I sourced a high-resolution copy of the video to take a closer look.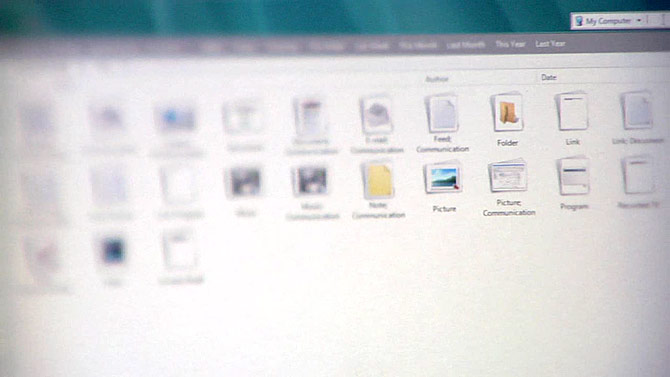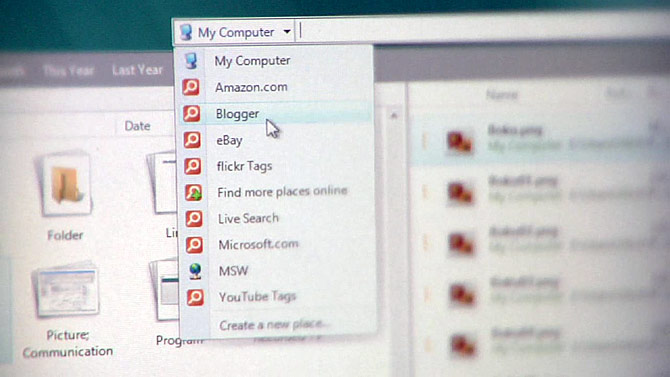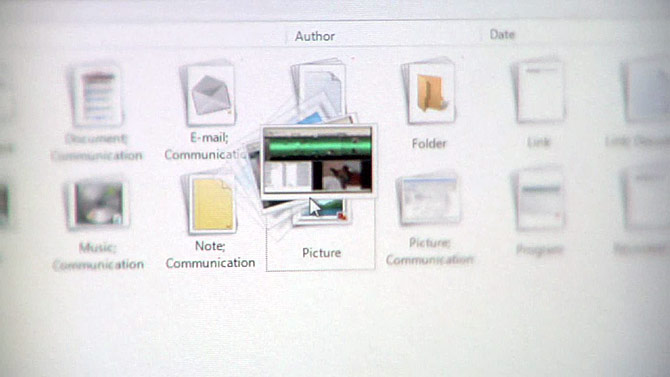 Even though the focal blur effect is quite ridiculous, you can make out enough visual elements to identify the Aero interface window frame and the address bar. The gray bar below that appears to be some sort of time/date filter with only enough clarity to make out "Last Month", "This Year" and "Last Year".
The files in the first screenshot appear stacked by file type, but not the file type you might be familiar with. Folders and programs also appear as a stack, and there are also stacks with multiple types (ex. feed & communication, picture & communication). I can only assume these are feeds or emails with pictures embedded inside them. And unlike the stacks in Windows Vista, these have icons which represent the file types instead of identical blue panels.
The second screenshot shows off the address bar with the search "place" expanded. The list includes "My Computer" and a network share called "MSW" but also external "places" such as Amazon or YouTube. In this screenshot is also a right pane which appear to list the specific files inside a particular stack. The picture stack appears selected, thus a list of PNGs appear.
The third screenshot shows off a very subtle preview overlay when you hover over these stacks. Whilst the picture doesn't do it justice, the individual previews actually fade in and appear in the "deck" and moves down the deck until it eventually fades out.
In conclusion, I really don't know what to make of this except it is super exciting. Bearing in mind Microsoft Research contributed to the Windows Vista desktop search functionality, I wouldn't be surprised at all if these are ideas or prototypes for the next generation search interface. But to play devil's advocate, this is Microsoft Research after all.
You can find the full video below and the shots above are from captured from timecode 1:36min or -3:04min.