When most companies are working towards making the web more standardized and interoperable, it feels as if Microsoft wants to take users back to the last decade when sites were specifically designed for and only one browser, in this case, Internet Explorer.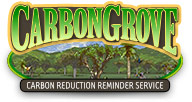 I only say this because Microsoft's Internet Explorer team has recently sponsored a climate-change edumacation site called "Carbon Grove" designed exclusively for and only works on Internet Explorer 7 and 8.
To be clear, I actually don't mind their sponsorship. The Internet Explorer team could very well sponsor this site if they wanted to and I'd be glad to take their money, but it shouldn't influence who should or should not be able to access the website – adding "artificial incompatibility" – especially when there's nothing technically preventing it so.
The main feature of the website is a Silverlight application and because Silverlight is supported on at least IE, Firefox and Safari, there's absolutely no reason why it shouldn't work otherwise.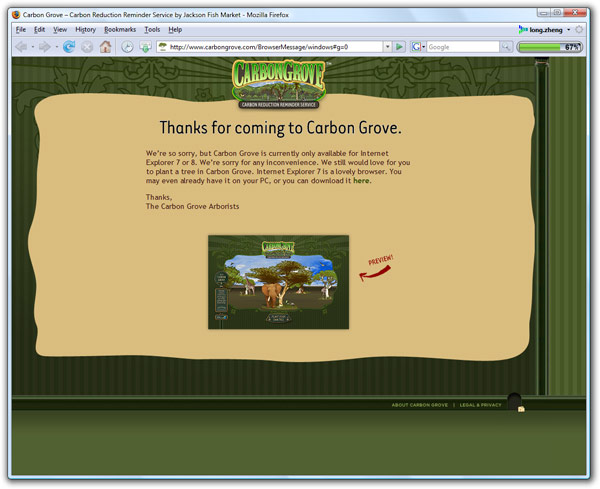 If you try to access the website with Firefox and spoof your user-agent to appear as Internet Explorer 7, you are presented with a Silverlight error which you can't avoid even if you have the right version of Silverlight installed.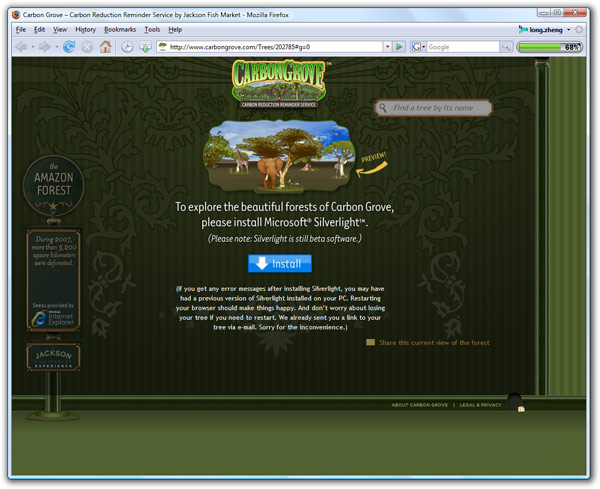 However to prove a point, I did a little bit of HTML hacking with Firebug on Firefox and what do you know, it works flawlessly.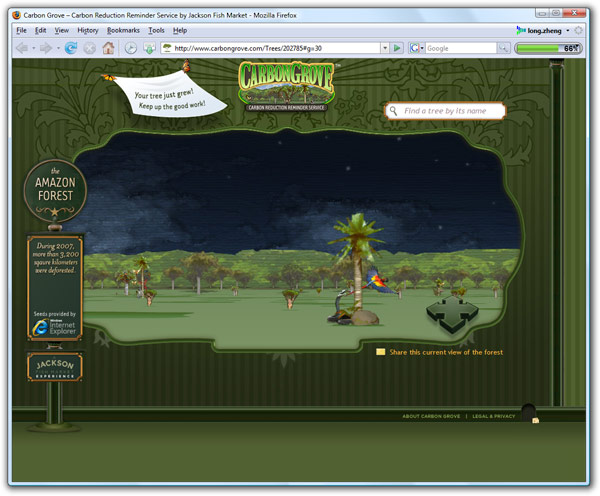 The developers at Jackson Fish Market – a Seattle startup by three former Microsoft designers whom I regard highly – have assured me there's no code or logic which prevents non-IE browsers from accessing the site besides the user-agent checker and I believe them. The Silverlight install prompt which blocks access is most likely a side-effect as a result of modifying the user-agent. The issue is that I shouldn't have to lie about my user-agent in the first place.
Having said that, these developers have designed Silverlight sites (ex. Tafiti) before that work flawlessly across many browsers so it's not like they don't know how.
The fact is, somewhere along the line, someone said "this site should only work in Internet Explorer" knowingly it works perfectly fine on most other browsers. That I think is anti-competitive.
To be honest, with all the advancements Internet Explorer 8 makes towards working better with existing standards and even adopting the latest web standards ahead of competing browsers, I thought very highly of them. But this, is just ugly.