You might have heard the buzz about Microsoft's Live Mesh software-as-a-service platform launched over the past week and wondered what all the fuss is about. Well you probably didn't get very far before you were stopped in the registration process to find out it was invite-only. Apparently it's a necessary to help them scale with demand.
Today, LiveSide reported how existing Live Mesh users can invite other users using the folder sharing dialog and thus it's beginning spread slowly since each person who accepts the invitation also receive a few invitations of their own to give out.
As soon as I got my own invite, I started thinking of the original "Gmail invite sharing" website and began to build one for Live Mesh. Thus, www.sharemesh.com was born. If you would like a Live Mesh invite or have one to share, I encourage you to check it out.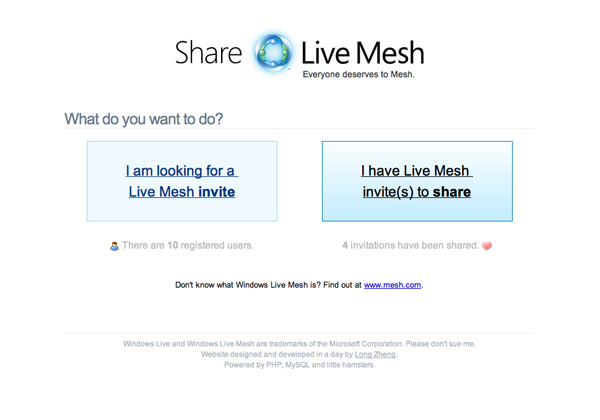 In case you were wondering, this only took me roughly seven hours from to design, develop, test and deploy using PHP and MySQL. I owe most of it to Dreamweaver and Uniform Server.