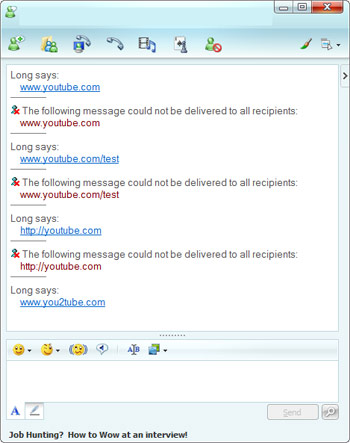 Not too long ago, users on the Neowin.net forums started complaining about not being able to send YouTube links to their contacts on Windows Live Messenger. I was skeptic at first, but it didn't take me very long to confirm that is indeed the case.
As you can see, any messages that contain in text or links to "www.youtube.com" fails to be delivered.
Curious as a cat, I loaded up a network packet sniffer to find out exactly what's going on behind the scenes. Technically, the message packets are in fact sent to the Messenger servers (so it's not being blocked at your client), but the server sends back a negative acknowledgment (NAK) packet instead of an acknowledgment (ACK) packet. Simply speaking, the server is refusing the message.
As some people may recall, in 2006 there was a report quoting MSN Sweden admitting Microsoft is "censoring" messages it deems a security threat. How it does this is by matching messages with a known list of text strings which are commonly found in phishing and malware sites such as "download.php". Microsoft doesn't publishes which strings are on this list for obvious reasons, but a comprehensive list of known blocked strings can be found here.
We all love a good conspiracy, but I don't think anyone at Microsoft was dumb enough to do this deliberately to undermine Google. On the other hand, even if it was an accident, how do you ever trust this system?
Update (11/5/08): Not surprisingly YouTube links are working again.
Update 2: The Windows Live Messenger blog published a post admitting the problem which they claim was entirely controlled by a third party and their process of blocking harmful URLs. Another good reason to outsource.