Hello all Internet Explorer blog readers. Welcome. Make yourself at home.
Less than an hour ago, Dean Hachamovitch published a new post on the Internet Explorer blog about "Trustworthy Browsing". I quickly scanned the article looking for interesting tidbits when I came across an interesting link. "www.somebadsite.com".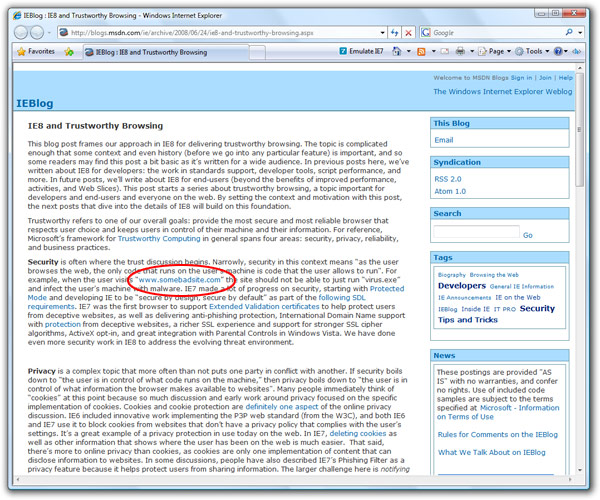 Whilst trying to explain the security improvements Internet Explorer has implemented, Dean used "somebadsite.com" as an example of what a malicious website could not do. Curious like a cat, I clicked the link in anticipation it was a placeholder and would redirect me to Microsoft.com. Then the opportunity struck me like the Phoenix rover found ice. I hastened myself to my domain registrar and got everything sorted out within the minute. Long story short (pun), I am now the proud owner of somebadsite.com which currently redirects here.
In conclusion, Dean, thanks for the link. I owe you one.
P.S. If any person or security company would like to purchase this domain for novelty's sake or demonstration purposes, I'm open to all charitable donation offers. Please leave a comment or send an email.
Update: As Daniel pointed out in the comments, Dean seems to have removed the hyperlink and my trackback as a direct result of this. I guess my 5 minutes of fame was pretty literal.