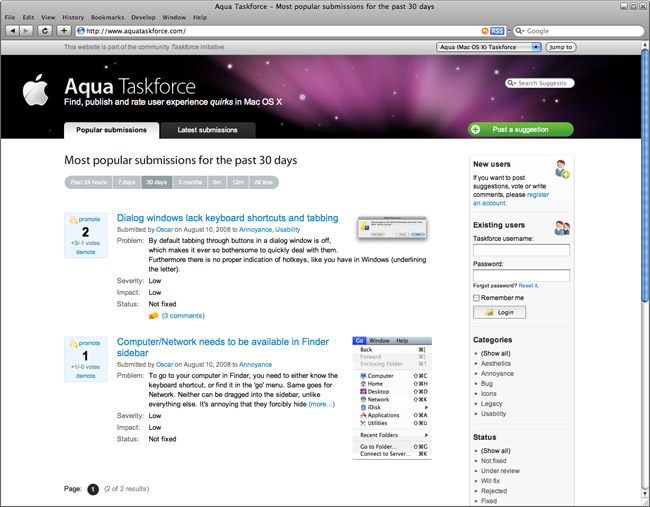 One of the first requests I received after launching the Windows UX Taskforce was "when can you make one for Mac OS X". This came at a surprise to me because I didn't know OS X had user experience flaws, but apparently it did and still do. Having said that today I'm proud to launch Aqua Taskforce, a taskforce site for Apple users to submit, vote and comment on OS X user experience quirks.
Windows UX Taskforce has also been renamed to Aero Taskforce for consistency. One login will work on both sites.
On the front-end you'll probably notice that the site is visually different with a distinct Apple styling – which looks amazing I should add. Special credits to my friend Oscar for the hard work and more ahead of him. Don't worry Windows users, Aero Taskforce is next in line to receive a visual makeover.
However what I'm more proud of is the changes on the back-end which some might have noticed via the different URLs. The new back-end has been re-engineered to support multiple (taskforce) sites with one codebase and a shared login system. Now I can deploy multiple Taskforces in just a matter of minutes. If you run a business and are interested in setting up a hosted but customized taskforce site for your products or services, please contact me.