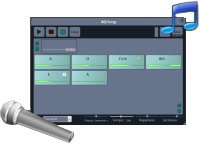 This might just be the quickest research project to commercial application transition from Microsoft Research yet.
In late February earlier this year I wrote about a cool Microsoft Research project called "MySong" made in collaboration with the University of Washington full of gifted computer science students. Now seven months later, Microsoft has just filed a trademark application for "Songsmith" for "computer programs for generating background music to accompany singers" – exactly what MySong did.
[flv:MySongCHI2008.flv 630 420]
For those who have forgotten what MySong was about, it was a software application where it autonomously generates a dynamic background melody to accompany any vocal singing you throw at it. Whilst it was still not as dynamic as a real accompanist, but still a good mile ahead of other commercial alternatives on the market today. Oh and it saves you the embarrassment for any real musicians to have to accompany you and your attempt at "SexyBack".
So far there's no other evidence as to how Microsoft intends to market "Songsmith", whether as a freebie MSR download or a cheap casual music program which I'm sure will be quite popular with teenagers either way. Even now I can already imagine the many screeching YouTube videos.