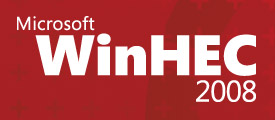 It must suck for Microsoft's WinHEC conference this year not being the favorite show out of the two major events as PDC 2008 has been getting all of the attention and even the occasional plug from Steve "loves his company" Ballmer. But there's still hope.
A recently updated sessions list has more in-depth details about each session and even goes into describing some interesting new hardware scenarios to be introduced in Windows 7.
Bluetooth and Wireless USB Support in Windows 7
This session presents an overview of Bluetooth wireless technology and Wireless USB in Windows 7. The first half focuses on Bluetooth and addresses questions about the Windows Vista Feature Pack for Wireless, Bluetooth version 2.1, updated Windows logo requirements, and Bluetooth wireless technology in Windows 7. The second half discusses Wireless USB, the current market status, and Wireless USB 1.1 progress.

Building a Bluetooth Audio Device in Windows 7
Supporting Bluetooth Audio devices on Windows has never been easier with native support for a Bluetooth audio class driver in Windows 7. This session introduces the features of this new class driver and provides recommendations on how to build a Bluetooth audio device that is compatible with Windows. The session includes an overview of the profiles supported in Windows 7, the Jack Detection model for device availability, automatic device reconnect, trolling, and Bluetooth Call Control support via HID.

Building a Communication Device in Windows 7
Unified communications has brought the phone to the PC. Windows 7 improves on the experience of using the PC as a phone. This session covers how to make communication devices that work well with the Windows 7 communication experience. You will learn how to declare your device as a communications device and which experiences Windows 7 provides for your device. With just a few minor changes, communication devices and Windows 7 provide a great experience to the end-user.

Building Digital Picture Frames Using Microsoft Technologies
This session provides actionable guidance and clarifications for building digital picture frames using Microsoft technologies. You will learn the connectivity models to integrate a digital picture frame with Windows PCs and with Windows Live.

Windows 7 Device Experience Overview
This session provides an overview of the new device experience in Windows. It summarizes the new Windows features for portable devices such as mobile phones and cameras, printing and imaging devices, and networked consumer electronic devices like media servers and digital picture frames. The emphasis of the session is to identify new Windows platform features that hardware companies can take advantage of, to demonstrate how devices can benefit from these features, and to indicate additional technical sessions and chalk-talks for interested attendees.

Windows 7 Device Installation Experience
Installing a new device on Windows 7 will be simpler than ever. This session covers what's new in the user experience since the release of Windows Vista and Windows Server 2008, and how you can ensure that your device installs successfully. It also describes how to distribute any applications that are associated with your device.

Windows 7 Device Services for Media Transfer Protocol
This session provides an overview of device services for Media Transfer Protocol (MTP) that will be introduced in Windows 7. Device services are the building blocks that enable new extensibility opportunities for Windows-compatible portable devices and align new experiences for portable devices in Windows 7. This presentation includes an overview of Web-to-device interactivity that uses device services and Web scripting.

Windows SideShow: Building Better Devices and PCs
Learn how we're making it easier than ever to incorporate Windows SideShow technology into devices and PCs. In addition to learning about some of the new product solutions we've put together, you'll see exciting demonstrations from partners who have taken advantage of SideShow to increase the value of their devices. This session also covers new platform enhancements for the Windows 7 operating system, and we'll look at some of the many ways in which SideShow can improve devices in the digital home.

Discussion: Device Center, Bluewire, and Device Installation
This is your chance to chat with Windows team members in an unstructured gathering to answer your questions. Members from the Device Foundation Platform Team will be on site to take your questions, comments, and feedback regarding Windows 7.

PCs and Devices in Windows 7: What You Need to Know
This chalk talk provides a forum for attendees to discuss various aspects of PC devices and peripheral device connectivity. Windows engineers will be present to discuss how the Windows architecture groups multiple PnP devnodes into a single "piece of plastic" and how that architecture also groups internal devices in a notebook or desktop PC. We will also cover issues that arise when hardware IDs are not specific enough to properly associate your metadata, how Windows handles container information from your device and driver, and how to properly override Windows default heuristics.

Windows 7 Enhancements for Solid-State Drives
PC systems that have solid-state drives (SSDs) are shipping in increasing volumes. Microsoft is working with the industry as overall experience with SSD technologies grows, which results in planned Windows enhancements that take advantage of the latest updates to standardized command sets, such as ATA. Come to this session to learn about details on file system optimizations, best-practice information on design, and thoughts on the future of SSDs and their role in Windows.

Windows Presentation Virtualization
This session discusses Microsoft's continued investment in Windows remoting features that empower the enterprise mobile workforce in the next release of Windows and beyond. We'll covers how these features in Windows 7 and Windows Server 2008 R2 will enhance the user computing experience and how applications can integrate well with core remoting infrastructure services to provide on-the-go users with rich software and device experience from anywhere with Internet access.

Multi-Touch in Windows 7 Overview
Multi-touch is one of the most dramatic user interface advances in Windows 7. This session provides an introduction to Multi-Touch technology and Window 7 support for it, including new Multi-Touch features, built-in Multi-Touch gestures, and the Multi-Touch platform.
Considering both PDC and WinHEC are only a few days apart and are in the same venue – Los Angeles Convention Center, you could play an extended version of Hide and Seek in a store room to get in to WinHEC for free. A store room in the kitchen with plumbing is preferred, WiFi connection a plus.