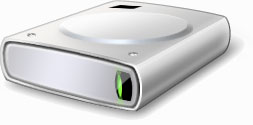 A couple of months ago in May I wrote about an interesting Microsoft job posting that hinted at the idea of native Virtual Hard Disks (VHD) support in Windows 7 that would allow users to create, mount, unmount and even boot from these disk images without additional software allowing for interesting use-scenarios for not just enterprise users and home users as well.
Well the good news is that the rumor is now confirmed as a recently updated WinHEC 2008 agenda touts a session dedicated to this particular functionality with one subtle difference – targeted at Windows Server 2008 R2.
Windows Boot from One Image Format – ENT-T606
Presenter(s): Paul Rambo, Peter Brundrett

Virtual hard disk (VHD) is becoming a de facto standard image format for virtual machine operating system images. This session discusses native support of VHD in Windows Server 2008 R2. This support allows users, administrators, and vendors of storage and management tools to operate on VHDs as they would other storage devices. This creates opportunities for lowering operational costs by enabling customers to use a single image creation, deployment, and maintenance process and toolset across virtual and physical environments.
Technically Windows Server 2008 R2 is not Windows 7 – the name gives it away, but like Windows Vista and Windows Server 2008, they are in theory based on the same kernel and developed in parallel. However just because it's there doesn't mean it'll work – whether this feature will be "switched on" in Windows 7 remains a mystery. If my opinion is worth anything, I think it'll be a killer feature for pro-users. Is it too early to speculate about Windows 7 Ultimate Extras?