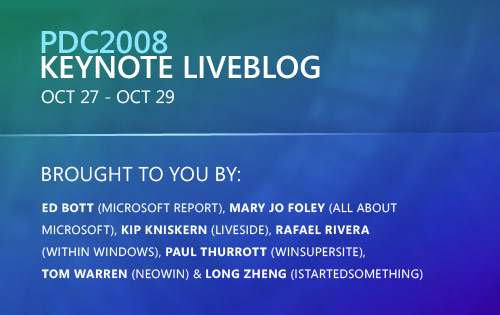 I'm putting synergy to the test next week as I've gathered seven of the most interesting Microsoft bloggers to come together for an interesting collaborative liveblogging experiment at the Microsoft PDC 2008 event. In alphabetical order, Ed Bott, Mary Jo Foley, Kip Kniskern, Rafael Rivera, Paul Thurrott, Tom Warren and myself (Long Zheng) will be group liveblogging all three PDC keynotes from October 27-29.
How it's going to work is that we're all going to be contributing to a single Coveritlive liveblog so you'll be able to read all of us live from this and everyone else's blog. What I think will make it unique and worthwhile will be the all different opinions/commentary each of us provide, assuming we're all as interesting and knowledgeable as we make ourselves appear. Or you can also watch in anticipation of a trainwreck.
Either way, join us for what should be some pretty interesting keynotes. You can note the time and date as follows or import the iCal which I've prepared earlier.
Monday, October 27 8:30am – 10:30am (PDT)
Keynote – Ray Ozzie, Amitabh Srivastava, Bob Muglia and David Thompson
Tuesday, October 28 8:30am – 10:30am (PDT)
Keynote – Ray Ozzie, Steven Sinofsky, Scott Guthrie and David Treadwell
Tuesday, October 28 11:00am – 12:30pm (PDT)
Keynote – Chris Anderson and Don Box
Wednesday, October 29 8:30am – 10:00am (PDT)
Keynote – Rick Rashid
Update: Added Chris Anderson and Don Box's keynote.