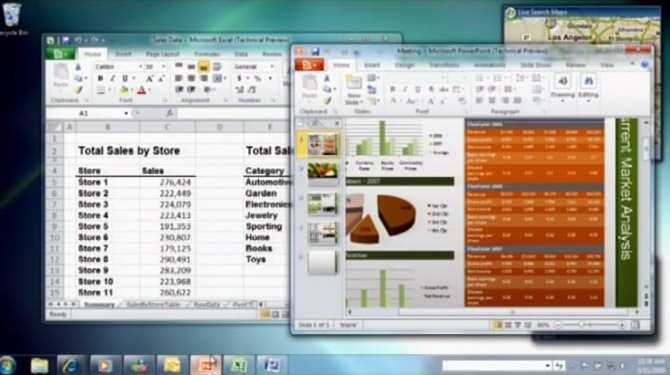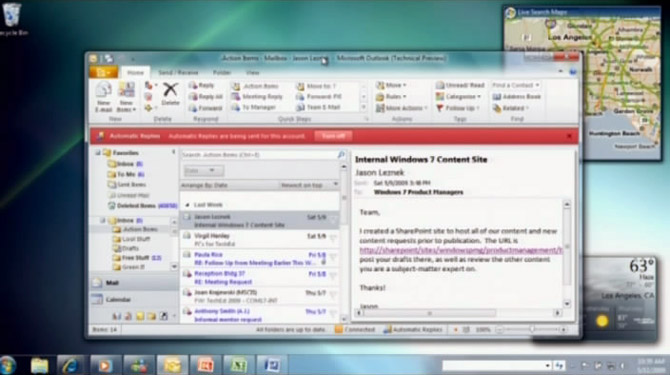 Microsoft's TechEd 2009 conference kicked off today with a fairly forthcoming keynote that included not only the announcement of a Windows 7 release date season but an indirect demonstration of the forthcoming Office 2010 Technical Preview build. The best-I-can-do-from-a-streaming-video screencaps above comes from Bill Veghte's quick demonstration of Windows 7 in which he launched 3 Office applications: Excel, Powerpoint and Outlook.
Compared to the screenshots of Outlook 2010 that were leaked to ZDNet's iGeneration a month ago, not much has changed, but the effects of a new fade-to-Aero gradient in the header bar is much more obvious. In terms of the actual applications, Excel does not seem to have changed at all whereas Powerpoint has a new "Transitions" tab possibly indicating improved effects and animations behaviors. Outlook's changes are pretty self explanatory. Each application's "Ribbon button" is also colored differently, allowing easy differentiation between the applications.
Having said all that, I have no idea what's going on with "Office 2010 The Movie". A viral campaign for business applications? Sure, bring it on.