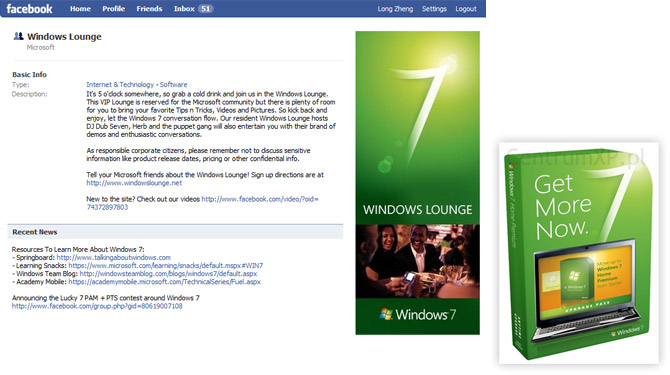 I was wrong. The leaked images posted yesterday on CentrumXP.pl portraying to be the Windows 7 retail box art and packaging are indeed real. The undeniable evidence ironically comes from no other than Microsoft employees, on a Facebook group they've set up.
The group "Windows Lounge" is a private Facebook group reserved for Microsoft employees to learn and discuss Windows 7. Understandably, the group admins have uploaded a banner to formalize the group but probably did not realize that even non-group-members can too see the image. An image that gave a little too much away.
In the spirit of hitting two birds with one stone however, not only is the box art now confirmed but the official Windows 7 mark or logo is also revealed and confirmed to be an artistic-variant of the Arabic numeral "7" with a not-so-subtle lens flare effect. The internet will now judge.
Update: There is some speculation that the images may be just concepts in an ongoing design process, which I certainly hope is true. However, rumors of where these images leaked from is usually not a place where you would find unfinalized concepts.