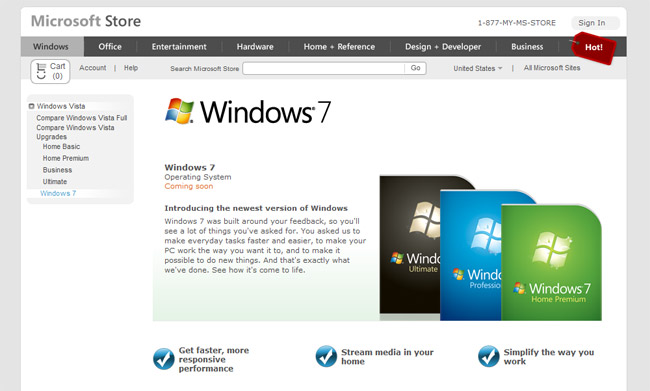 It appears the Polish website, CentrumXP.pl, who a month ago leaked images of what was believed the be the Windows 7 packaging design and box art is more credible than I thought. Shortly after I wrongfully dismissed their claims, I found some evidence that supported their claims, however it was not entirely clear at the time whether the leaked images were concepts in iteration or the final design. Now, to end the speculation once and for all, the boxart has been officially confirmed by no other than the Microsoft Store listing for Windows 7.
Notably the final physical design, color schemes and imagery are identical to the leaked images. If you haven't seen already, CentrumXP.pl has high-resolution copies of these images providing a closer look at the finer details decorating the Windows flag, including but not limited to a butterfly and lens flares (not necessarily bad, just, rare). Perhaps more proof the industrial Windows brand evolving to incorporate more humanistic and personal elements.
Now that the full version boxart has been confirmed, there is a high probability the leaked upgrade edition boxart is also real deal, which would actually surprise me due to its unorthodox approach. We'll have to wait and see I guess.
Tip: You can get the uncropped image from the Microsoft Store by directly accessing the image here.
Update: Someone pointed to me the Ars Technica article which also points to the same evidence on the Microsoft Store. I'm not familiar with when they made that update, and credits to them if it was earlier.